These fragrant herb potatoes are perfect the side dish for so many meats, you'll make them again and again.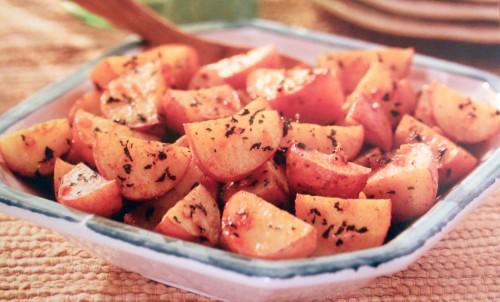 Ingredients:
1 3/4 lbs small red potatoes, scrubbed
1/2 cup butter, melted
2 tablespoons minced fresh garlic
2 tablespoons chopped fresh parsley
1 tablespoon chopped fresh rosemary
1 tablespoon chopped fresh thyme
1 teaspoon seasoned salt
1 teaspoon paprika
Instructions:
Preheat over the 435F
Cut potatoes into quarters.
Place potatoes in an ungreased square baking dish.
Combine remaining ingredients in a small bowl, mixing well.
Pour mixture over potatoes and stir until coated.
Bake potatoes 20-25 minutes, or until tender.