As you may have read in some of my previous posts (here, here, here, here, and here), I'm working on a crazy quilt.  I got a lot done on it over the weekend.  My original plan for the quilt involved sashing the 12-inch blocks in a dark grey – something like Kona Cotton in Charcoal.  Unfortunately, even with visits to all of my local quilt shops – and even the big box stores – no one had any dark grey.  That meant a new plan.  I ended up getting a khaki colored fabric by Legacy Fabrics, similar in color to this Kona Cotton.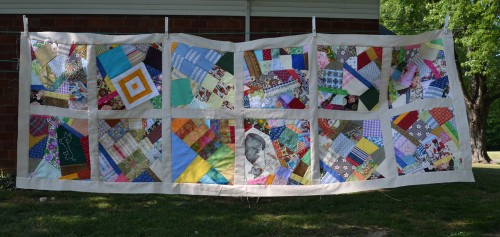 I got all of the sashing done on the 12-inch blocks on Saturday.  I'm super happy with the way it looks.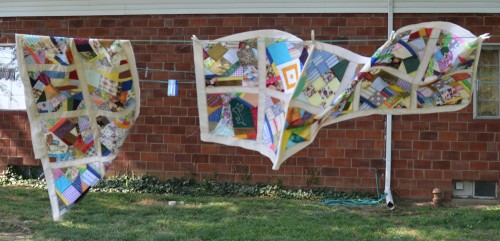 That leaves the big center section to complete.  I started working on it Saturday evening, and worked on it a couple more hours Sunday and Monday.  It's taking a lot longer than I had hoped, but since the individual blocks took about 2 1/2 hours each, I guess it shouldn't be surprised.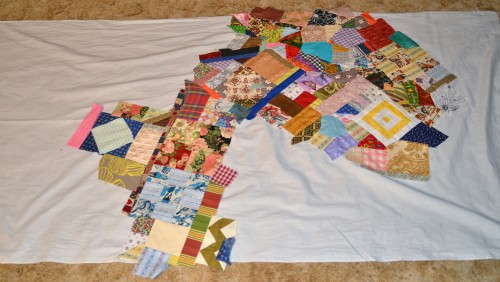 Originally, I was going to have a large section of the sashing fabric in the middle, because I didn't think I could tackle this large section.  I'm really glad that my mother-in-law convinced me to give it a try.  It's a lot of work, and it's been really hard to maneuver the fabric in my machine, but I think the final product will be well worth it.
And the section is coming along decently, even if there is still a lot of fabric left to quilt.  I'm hoping if I work in the evenings, I can be done by the end of the week, or at least by the end of next weekend.
What projects are you working on right now?  Have you ever made a crazy quilt?