No-Bake Pumpkin Pie
I may have used affiliate links for some of the items in this post. Using an affiliate link to purchase an item won't cost you any more money, but I may receive payment if you click on a link and make a purchase. For more information, visit the disclosures page.
I recently came into the possession of a copy of Cuisine Magazine that was published in November 1979 – thanks Aunt Anna.  This recipe for no-bake pumpkin pie was advertized in it, and looks like it would be pretty good.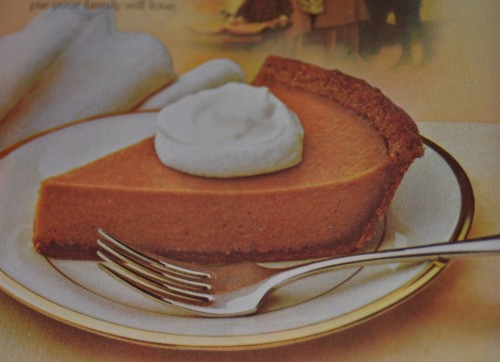 Ingredients:
1 (9-inch) graham cracker pie crust
1 envelope Knox unflavored gelatine
1 teaspoon ground cinnamon
1/2 teaspoon ground ginger
1/2 teaspoon ground nutmeg
1/2 teaspoon salt
1 (14 oz.) can Eagle condensed milk (not evaporated)
2 eggs, well beaten
1 (16 oz.) can pumpkin
Instructions:
In heavy saucepan, combine unflavored gelatin, cinnamon, ginger, nutmeg, and salt.
Stir in sweetened condensed milk and eggs, mixing well.
Let stand 1 minute.
Over low heat, cook and stir constantly until gelatine dissolves and mixture thickens slightly, about 10 minutes.
Remove from heat.
Stir in pumpkin, mixing well.
Pour mixture into prepared crust.
Chill at least 3 hours, or until set.
Garnish as desired.  Refrigerate leftovers.