Decorating for a Wedding
I may have used affiliate links for some of the items in this post. Using an affiliate link to purchase an item won't cost you any more money, but I may receive payment if you click on a link and make a purchase. For more information, visit the disclosures page.
As I mentioned in my last post, my little sister got married over the weekend. One of the most time consuming prep items for the wedding was decorating the church and the reception hall.

For Kayla's wedding, we reused a lot of the glassware from my wedding. That was a huge cost and time saver. We reused both the square vases and the mirrors for Kayla's decorations. They look completely different in her colors with the new filler and decorations.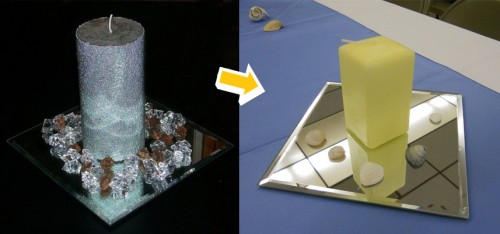 At my December wedding, we used sparkly silver candles on the mirrors, surrounded by crystals and teeny tiny pinecones. For Kayla's wedding the look was much more casual with square yellow candles – those are really hard to find by the way – with just a few shells that Shane collected on the beach in Florida. Not all of the shells came from his trip – Mamaw and Mom also had some, but this was one special way for the groom to be involved in planning the decorations.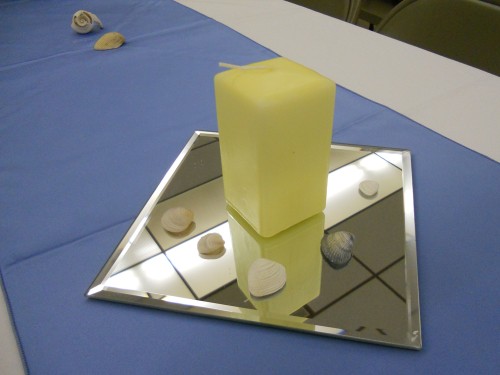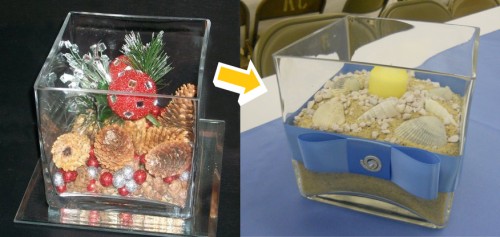 Kayla also used the vases in a different way than I did. At my wedding, we used a lot of shiny Christmas baubles and pinecones. I guess that comes with getting married in December. Kayla's vases were a lot more beachy, even if they were a pain in the rear to put together. We made all of the bows ahead of time, which helped. At least it kept me from having terribly bad burns from the glue gun at the wedding. But just like at my wedding, they had to be assembled at the reception hall. The first thing we did was to hot glue the ribbon bows to the vases – and I am seriously dreading getting the hot glue off. That was followed by filling the vases with some pool cleaning filler type sand. It had a larger grain than the play sand you can buy, and was a bit shinier. We used several smaller bags, but if you're planning on doing a lot of these, I recommend just buying it in a 50lb bag. Once the sand was in the vase, a small yellow candle was added. Then tiny shells were sprinkled over the top, before we added the larger shells.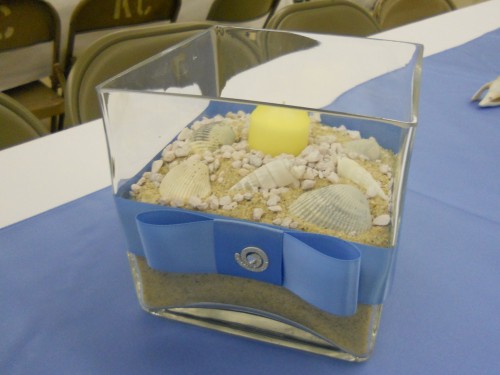 Kayla's flower arrangements were completely new. She picked out some really pretty yellow, white and blue flowers and since I created the flower arrangements for my wedding, I arranged her flowers as well. Once her flowers were picked out the first thing we did was find some tall vases to display the flowers in. Once I got the flowers arranged how I wanted, we dropped them in the vases and back-filled with sand for weight and to help cover the fake stems. If you decide to do this, I recommend that you cut all of the extra leaves off of your flowers, all the way down. That way you don't have any green foliage pieces up against the vase wall after you fill with sand. As you can see, we didn't quite achieve that with this one, but that's ok. I think this is the first one we did anyway.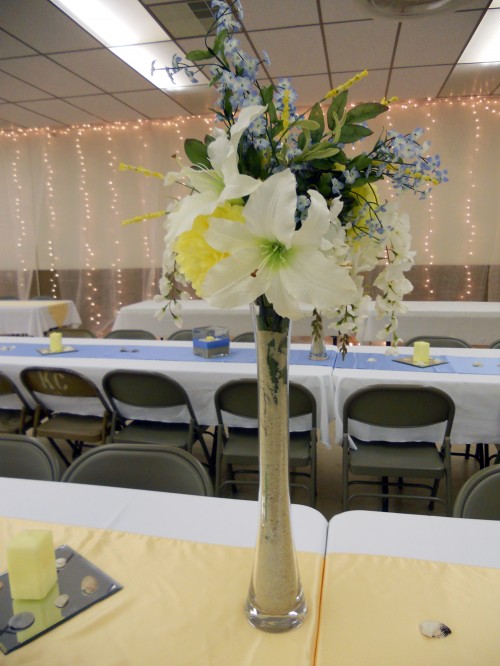 We also used some of these tall flower arrangements at the church, along with some wreathes that were decorated to match.
Of course, the tables weren't the only things we decorated at the reception. Cindy and her husband – who helped decorate at my wedding – were nice enough to assist with Kayla's wedding too. They did an amazing job, covering the walls with decorative fabric and lights, and setting up the wall pieces. I loved the idea of getting a custom neon light made from a site such as www.neonfilter.com, as it could have read "Mr & Mrs" and would have looked great in the blue and yellow colors used for the theme. Unfortunately, we didn't have enough time to get this organized, but I'm glad I know about this company now, as I can look to use them for any future events I help to decorate!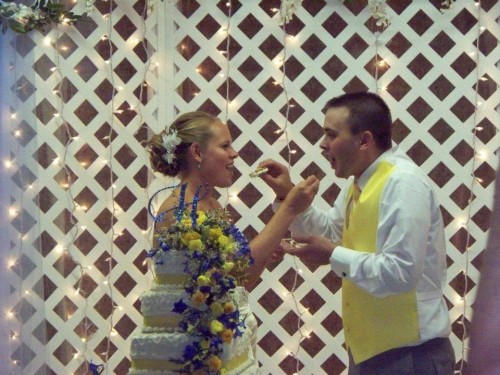 And speaking of decorating… didn't Charlie do a wonderful job with the cake? It was a butter cake with butter cream frosting that was decorated with real flowers. Needless to say, I was impressed.
Are you planning a wedding? If so, how are you planning on decorating?
This post linked up to Positively Splendid's Saturday Seven Party.