It was a very good Christmas this year, even if we didn't get to see everyone we would have liked. Christmas Eve was very busy. It started with a trip out to my Mamaw's house for dinner and a little visiting before we headed to back into town to visit with some of Matt's family for a couple hours. Afterwards we went to (not) Midnight Mass (which was at 10) at our local parish.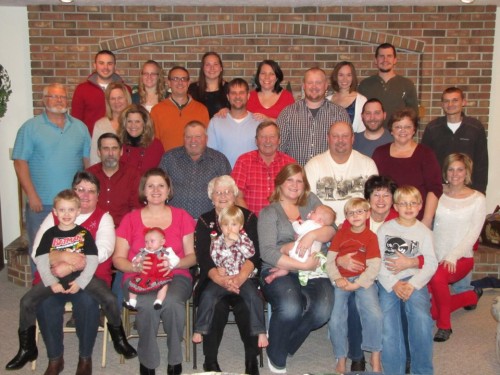 Christmas Day started with me waking up when Matt's alarm went off at 6:30 and not being able to go back to sleep for almost an hour. Oh well… I got to get on the internet early and wish a Merry Christmas, or Humbug as appropriate, to some of my wonderful out of town friends.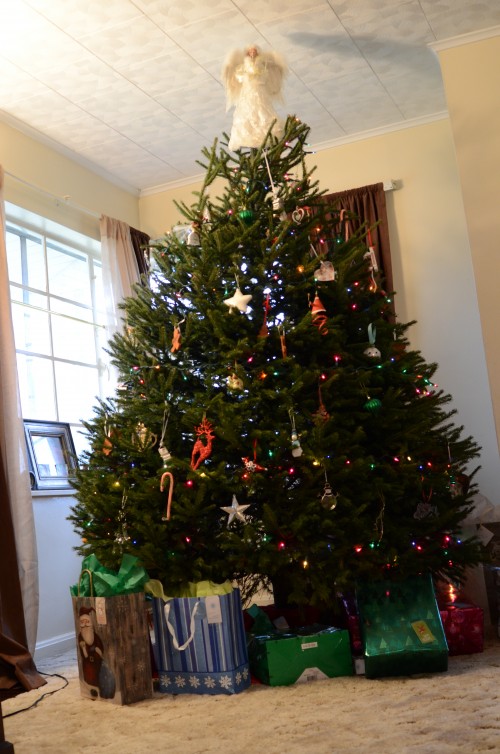 When we did get up for the day, we did our Christmas. Matt got me a lot of great stuff, including a couple books on cooking, some sewing accessories, and Season 5 of Dr. Who! He really is wonderful. This year I got Matt a cool flask by Rag & Bone (thanks Target) and an awesome Vintage Liquor Caddy I found on Etsy. It probably wasn't exactly what he was asking for (a bourbon bag), but it was as close as I could find.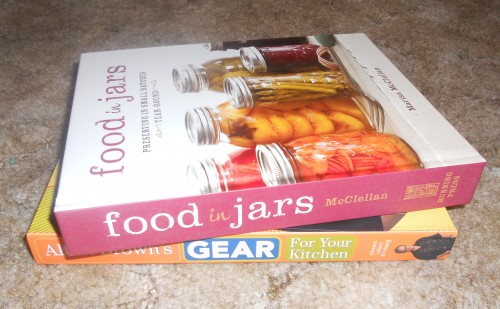 After we got the living room picked up from opening gifts, we headed out to my mom's house for a nice meal with half of my family. We had a great meal. Mom roasted a turkey and baked a ham. Plus, we had homemade mashed potatoes. And Hayward was there, he was grama's friend for the last few years of her life, and we still have him over to family stuff. He's super nice and we love having him around. After lunch, presents were exchanged. I got to give Samantha her birthday/Christmas present – the (Not) Purdue Quilt, and I got mom a couple of vintage Santa mugs for her collection. One of them is winking. He's sort of creepy, but still a nice addition to the collection. I got Kayla and Shane some more ornaments for their tree, mostly white so they would go with everything.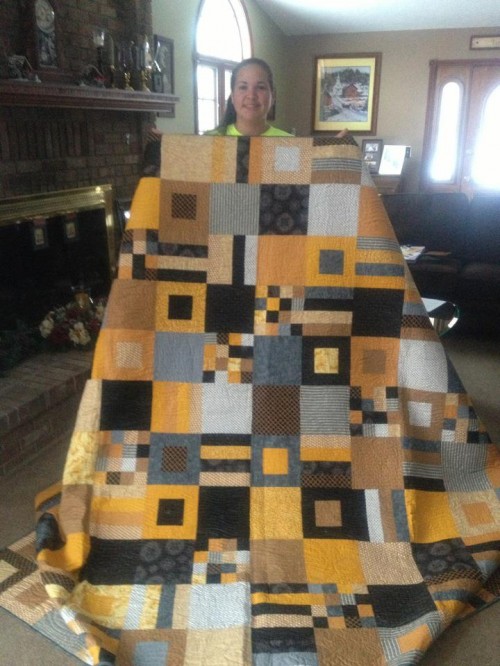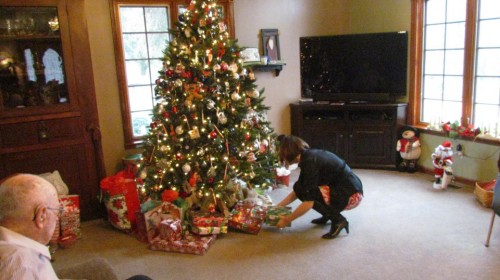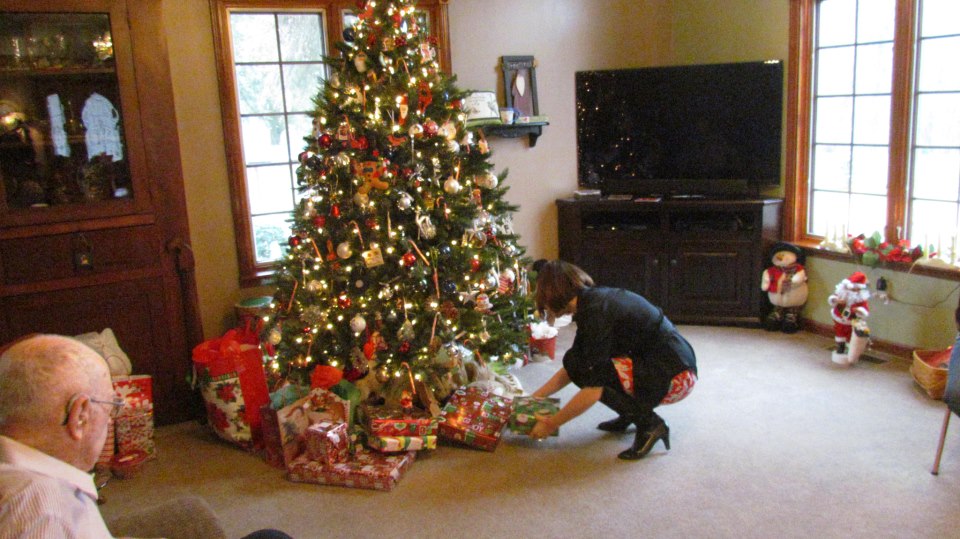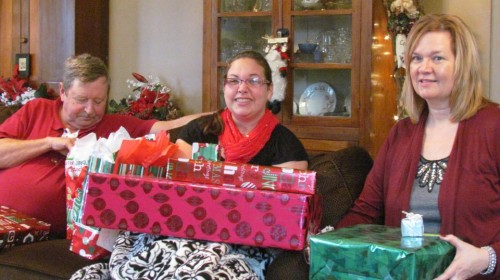 I got a lot of nice stuff too. Kayla got me a cool belt bracelet, and Samantha picked out a cool kitchen gadget I think I'll love. Mom also got me some nice stuff. She got me a super warm winter head wrap, which I think will come in quite handy with the cold weather outside, and a pretty black lace scarf… though when I first started taking it out of the bag, I thought mom had bought me lingerie, and I was a little concerned.
While we were at Mom's we also opened presents from Mamaw's party, the night before. Matt & I both got exchange gifts, and our Secret Santa gifts. Parker, who is not even 5 yet had my name, so I'm sure he had some help, but I really liked to album he got for me.
After presents at mom's we stayed and visited a while longer before heading home to switch out gifts for our next holiday party. We went to my sister's house for Christmas with my dad and family. It was nice to get to see everyone again. Even Kayla and Shane who we'd seen an hour earlier at mom's, because the rest of the company had changed. I got to visit a little with Carolyn (my stepmom)'s kids too. They are super awesome people, who I really should make an effort to see more.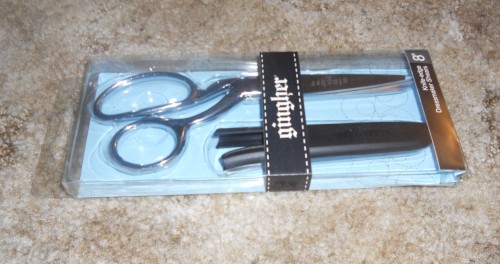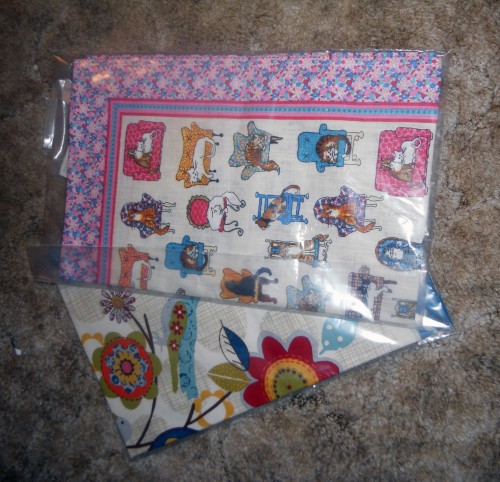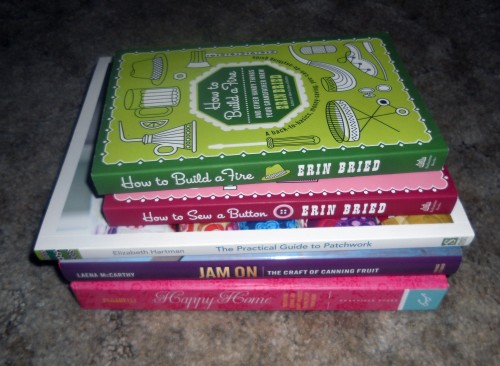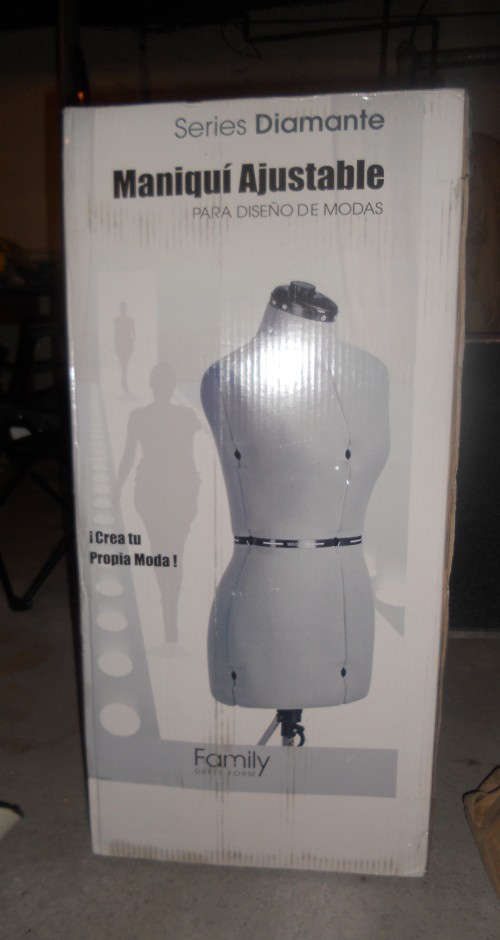 We got lots of stuff at this party too… or at least I did. I always feel a little guilty after Christmas with dad, because he always gets me such nice things. He does a lot for me, and I'll never be able to do enough to pay him back. Just don't tell him I said that… *grins* he might ask me to paint a fence or something. Dad and Carolyn got me 4 awesome books. Two of the books, How to Sew a Button and How to Build a Fire are super neat little instructional books with sections in them like Get Your Sparkle On: How to Properly Hand Wash Dishes and Get Screwed: How to Assemble a Good Toolkit. Another book was Jam On an entire book on making Jams. I'm thinking that might be something enjoyable to do this year. I know they make great Christmas Gifts, and it would be both homemade – that's why I gave both Hayward and Matt's grandmother home canned goods for Christmas this year.
Of course, we still haven't actually done Christmas with Matt's family. I know he would have loved to have spent the holiday with them, but they were headed out of town for the day, and out of town didn't work with going everywhere else. Wednesday was also out of the question, with the blizzard – but hey, at least it snowed.