This is the ball jar recipe for blueberry jam.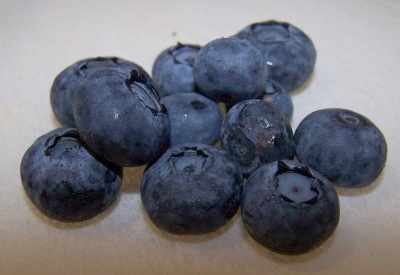 Ingredients:
2 pints frozen blueberries
2 tablespoons lemon juice
1 pouch 100% Natural Fruit Jell Pectin
5-1/4 cups sugar
Instructions:
Thaw and drain blueberries.
Crush blueberries one layer at a time.
Combine 3 cups of crushed blueberries and lemon juice in a large saucepot.
Stir in pectin.
Bring mixture to boil, stirring constantly.
Add sugar, stirring to dissolve.
Return mixture to a rolling boil.
Boil hard for 1 minute, stirring constantly.
Remove from heat and skim off any foam.
Ladle hot jam into jars, leaving 1/4 inch of head space.
Process jars for 10 minutes in a water bath.
Allow to cool for 24 hours.
Makes about 3 pints.