After taking a couple weeks off  of my sewing projects for the holidays, it's nice to get back to them.  And what better way to do that, than by playing with fabric, which happens to be the topic of this week's chapter in The Colette Patterns Sewing Handbook.
To really understand fabrics, you really need to understand them in two different ways.    You need to have both a sensory and a technical understanding of fabrics.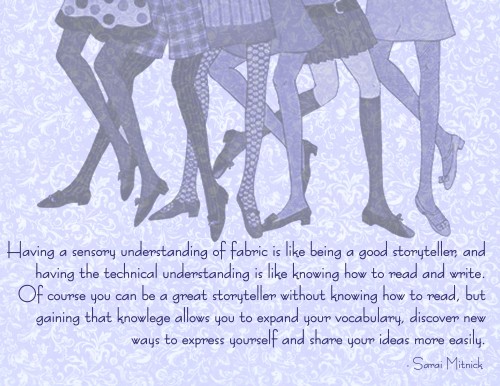 Even before I started sewing clothes, I felt like I had a sensory understanding of fabric.  I love to pet touch fabric.  It's my favorite thing about going to a fabric store.  Of course, since most of my time is spent at local quilt shops, I feel like I really have a handle on knowing a nice tight woven expensive cotton from a cheaper one.  And when I go to the store, I can tell by feel the more expensive clothes for the cheaper ones, but does that mean that I know my fashion fabrics?  I think not.
Fabric Qualities
This chapter was full of helpful information about fabric qualities like stretch, texture, sheen, weight, and drape.  It explained the differences these qualities have on your finished garment, and how to judge them on the bolt.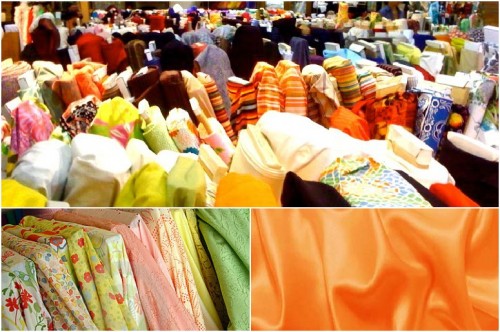 Fabric Types
The chapter also discussed the basics of fabric types.  It's nice to actually know the differences between silk, wool, rayon, cotton, and linen.  Within those basic fabric types, I learned about different types of weaves and knits.
[IMAGE OF DIFFERENT FABRICS FROM MY STASH]
From there the chapter moves on to discuss common fabrics and how to use them.  It was really interesting for me to see the difference between Batiste, Lawn, Shirting, and Quilting (or Poplin) cotton fabrics.  Because in my head, I'm always thinking, "Well, cotton is cotton."  But I can tell on the bolt that it's not.
Batiste fabric is a nice light (or sheer) cotton that is breathable and often used in clothing for summer, or with lace in heirloom sewing.
Lawn fabric is a combed cotton, that is light and has a balance of both crispness and drape.  Lawn fabrics are soft with an almost silk like surface.
Shirting cotton is made to be used for tailored shirts (usually men's).  While they can come with a wide range of qualities, a good shirting cotton will hold a crease well.
Quilting cotton, sometimes referred to as poplin, do not usually drape well.  However, the wide selection of colors and patterns makes them good for simple projects like skirts, that don't require much draping.  I actually used a quilting cotton for my Pastille dress, and was happy with how the project came out.
Notions
After learning about the different types of fabrics, this chapter also covered different types of interfacing, thread and needles, and which ones go with corresponding fabric types.
Print and Pattern
After we've covered the basics of fabric types and how to use them, it's important to know what type of print or pattern you will be using and how to describe it.  Thanks to this section of the book, I now know what a Toile print really is.  It's so much cooler to really know what something is, instead of just "knowing it when you see it."

And I totally think I need a dress made of it.