My MIL, Mary Kay, got me an adorable charm pack for Christmas.  It was the Flirtations pack by Sandy Gervais.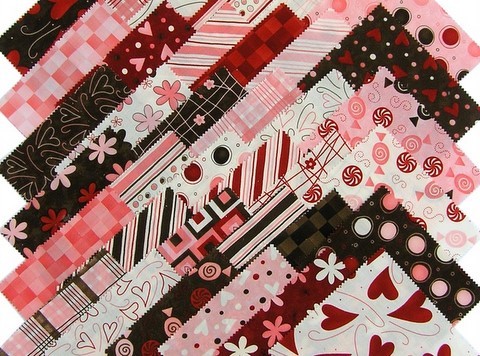 I've been trying to figure out how to use it for a while.  Mostly because it's themed fabric, with lots of red and pink and hearts, and I've just never quite known how to deal with themed fabric.  I could have done another HST project, like the School Days or Yellow Spiral lap quilts, but it just didn't seem right.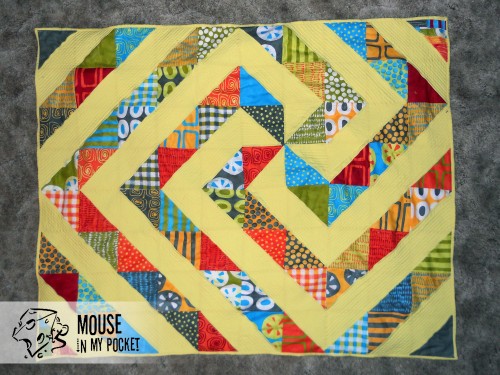 I finally figured out what I wanted to do.  I've been thinking about tackling the Cathedral Window style for a while, and these little beauties would be perfect for it.  So, I picked up some chocolate brown yardage to match and set about making something.
When looking for a tutorial on how to make Cathedral Windows, I came across a great tutorial for making pillow tops out of them on the Moda Bake Shop.  So that's what I decided I would do.  I figured making a pillow couldn't be too bad.  And I was right.  I was amazed how fast the project went together once I got started.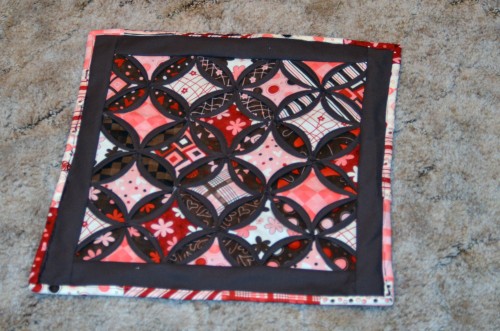 The charm pack had exactly 9 dark brown fabrics and the pillow top I was making had 9 sections, so I decided to use them for the ovals.  It gave those areas just enough of a change to be interesting.  And then I picked out some of the other fabrics, trying to choose equally between red, pink and white to use for the diamond sections.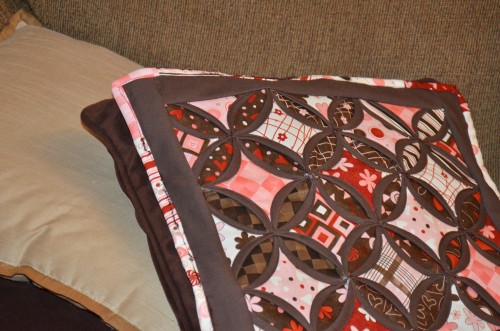 Maybe I should make a cathedral window pillow cover for every season. What do you think?