Bond Girl Swimsuit
I may have used affiliate links for some of the items in this post. Using an affiliate link to purchase an item won't cost you any more money, but I may receive payment if you click on a link and make a purchase. For more information, visit the disclosures page.
I recently decided two things.  1 – I wanted to attempt working with knits, and 2 – I needed a new swimsuit.  As part of my learning new techniques, I figured why not combine the two and make myself a swimsuit.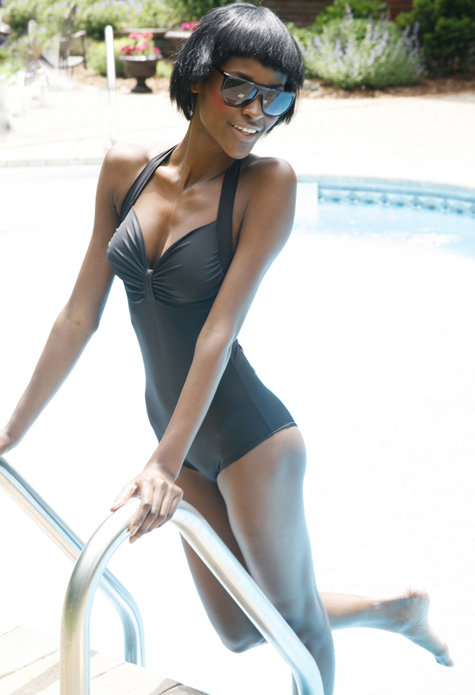 I love a good retro styled swimsuit – the only problem?  There are very few patterns available with a retro feel.  I finally came across a great one piece maillot for download at Burda Style.  The $3.00 I paid was well worth it for the pattern pieces, but I felt that the instructions were pretty lacking in clarity.
I've only ever worked with downloadable Burda patterns, so I don't know if the print versions are any better, but I've pretty much decided that you shouldn't work with a Burda Style pattern when you want to learn a new technique, or if you are unfamiliar with a process, because they are often very hard to follow.
The biggest issue I had with the pattern is that the pattern is sized 32-34, 36-38, and 40-42.  No where on the pattern or the instructions could I find what that measurement meant.  After asking around to several friends, we finally decided it was the hip measurement.
So, I cut out my test fabric and made myself a muslin from lining material.  It was super cheap – only $6/yard for 60″ fabric.  Once I figured out the instructions, I was very happy with the fit of the result.  That meant it was time to make the final version.
I wanted it to look good enough to go on a Bond Girl, because it needs to look that good if I'm going to wear it with my amazing vintage James Bond beach towel.
It looks beautiful, but I didn't take into account the difference in the amount of stretch in the fabrics.  My fashion fabric doesn't have as much stretch as the lining did, so the suit is hard to get over my hips and is a bit tighter than I would like at the leg openings.  This means I'll probably end up taking it apart at the hips and adding some sort of decorative panel to make it fit better.
But in the mean time, my suit still looks good enough to hang out with 007 – at least in my backyard.
Have you ever attempted to make your own swimsuit, or would you?  How did it turn out?
This week we're sharing over at:
Take a Look Tuesday at Sugar Bee Crafts
Make It Wear It Thursday at The Train to Crazy