With the ridiculous amount of snow we got on Friday, I decided that it was time to do a little Christmas decorating.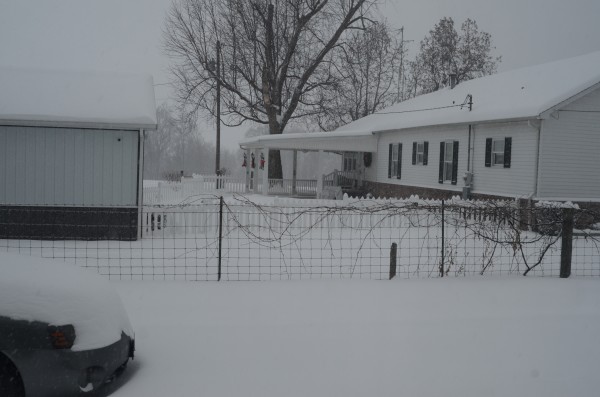 And with all of the vehicles were snowed in, it wasn't like I could do anything else.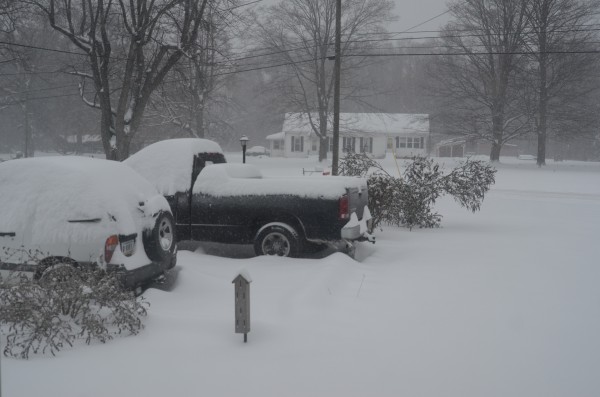 So, I got my husband to drag up a few tubs of Christmas decorations – the ones that didn't involve having the tree.  And I shoved Christmas decorations in with all of the other stuff on my credenza shelves.  I'm proud to say that I didn't have to store a single book or toy tractor.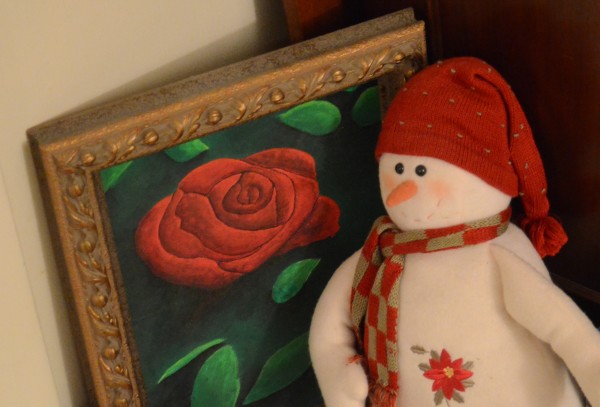 I found a home for the super cute snowman, from Mama,  next to my rose painting by the front door. And I filled the ledge in front of the shelves with decorations a conglomeration of decor from the shelves and the Christmas tubs.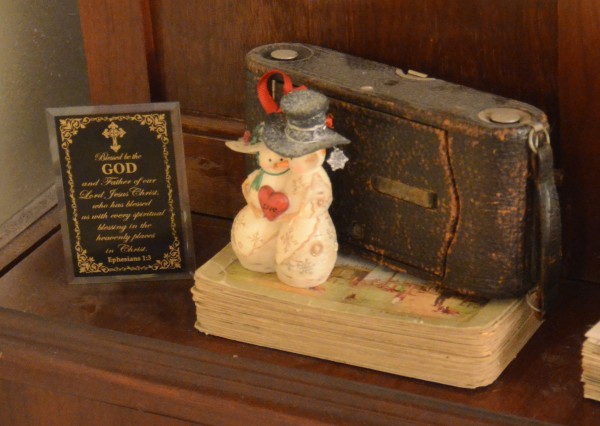 The snowman ornament that I keep forgetting to return to Carolyn, looka great in this little vignette with my vintage Kodak camera and stereoscope cards.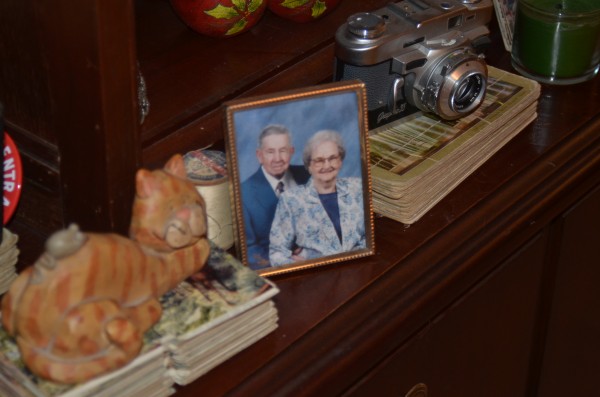 And I have a nice photo of my grandparents in front of an old spool of thread, next to a cat and my vintage Graflex camera.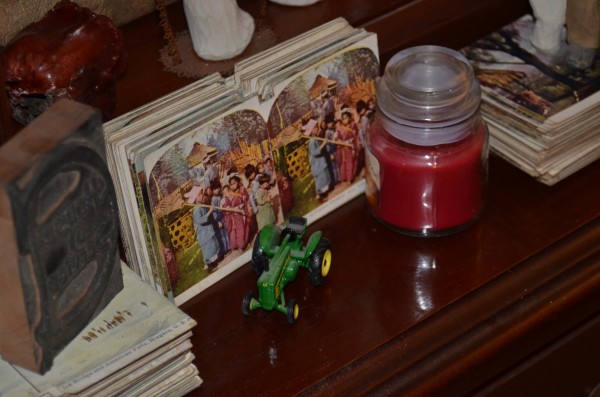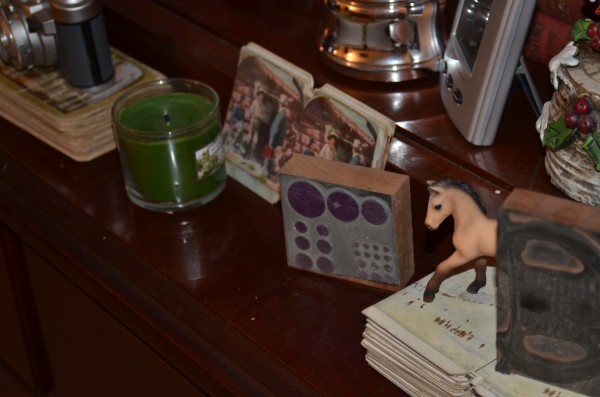 I've displayed the stereoscope cards that I originally had in one big stack in several piles along the ledge.  I love how much texture and interest they add there.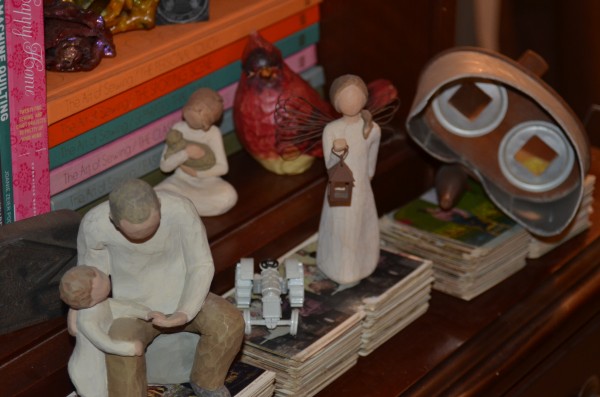 I also made room for some of the willow tree characters that I normally keep on top of the shelves.  They fit nicely on the ledge, and allowed me to add some larger items to the top of the shelves.  With all of these smaller items on the ledge, I was able to take out a couple of the shelves and adjust the shelf heights, giving me taller space to work with for my Christmas decorations.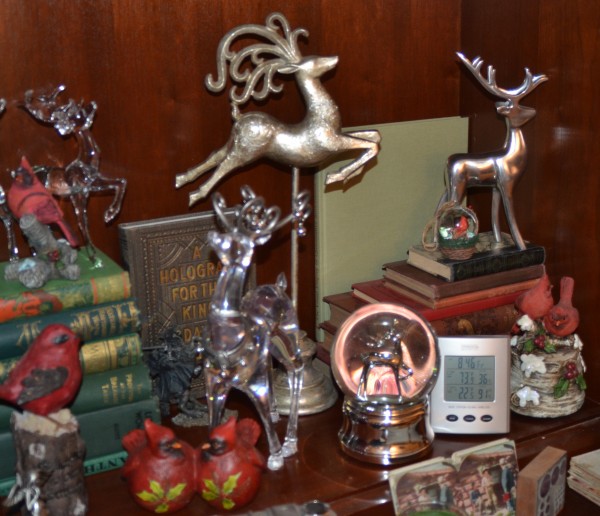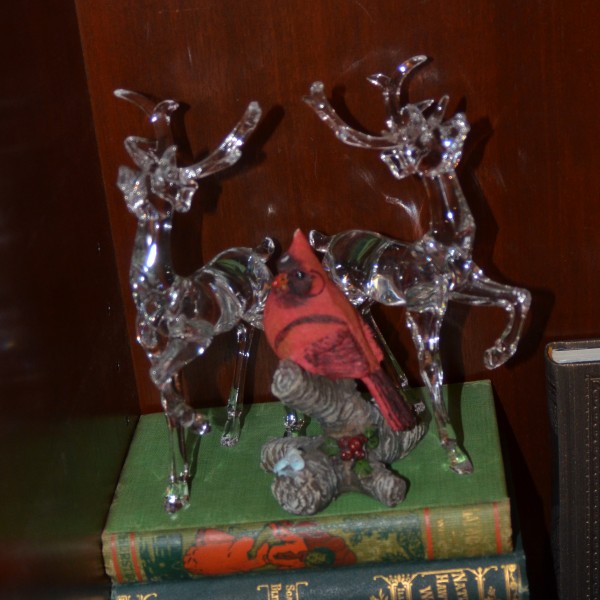 I have a pretty big collection of reindeer and cardinals, most of which were used as decor at my wedding four years ago.  You'll notice that I've managed to work in some of my vintage books, that are normally on the shelves, to get multiple levels for a better display. Ok, so I mostly used them so that I wouldn't have to pack them down to the basement and then back up again.  I may be lazy, but at least I'm creative about it.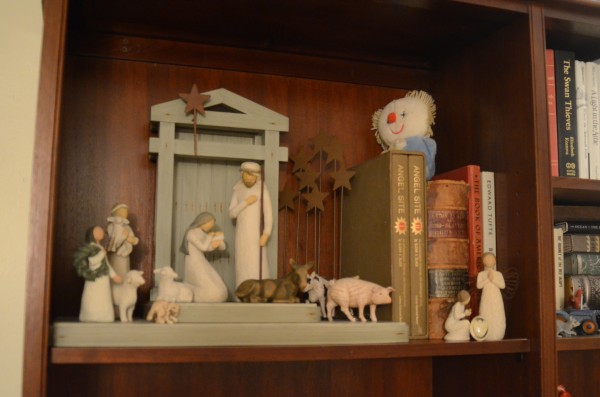 I also put my Willow Tree Creche on one of the shelves.  It is the perfect depth to fit on the shelves, and putting it there means that I don't have to find a new home for the lizard during the holiday season.  Of course, I couldn't waste the space next to the Creche.  As you can see, I found room for more books, as well as some more Willow Tree angels, and my clown toy, which had to be removed to make room for a Nativity statue and yet more cardinals.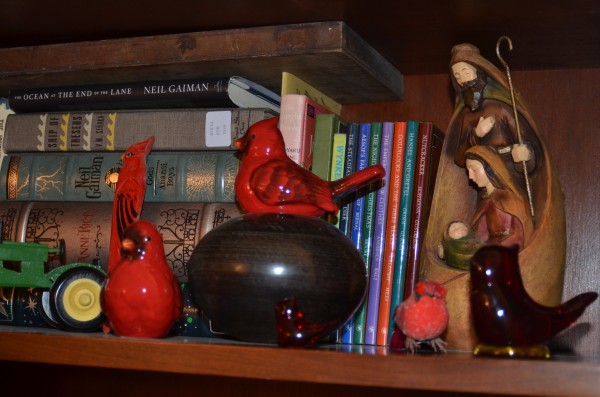 But cardinals aren't the only birds in my Christmas flock.  I have a couple of happy penguins setting next to my stack of bibles, and in front of my Mother Goose book.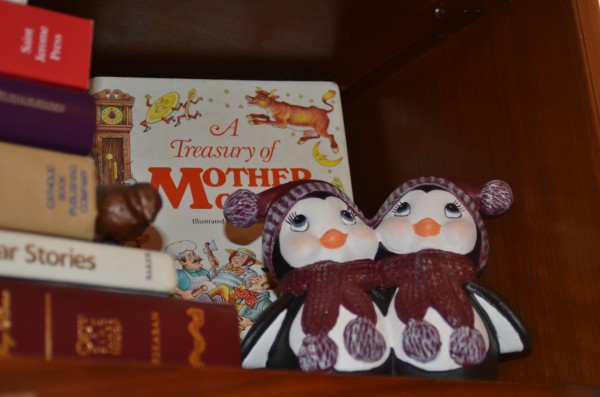 The only shelf that remains mostly Christmas free is the shelf with my sewing books on it.  And, as you can see, even it has a cardinal or two setting on it.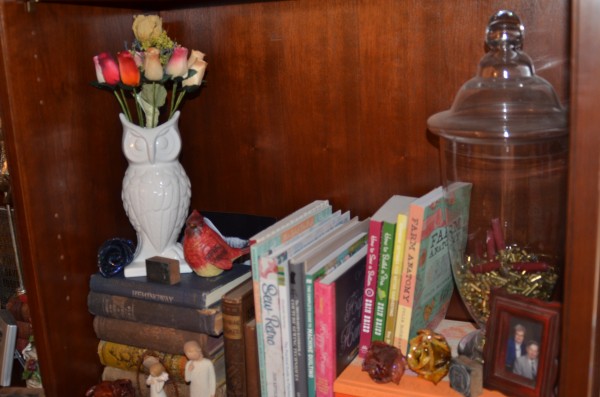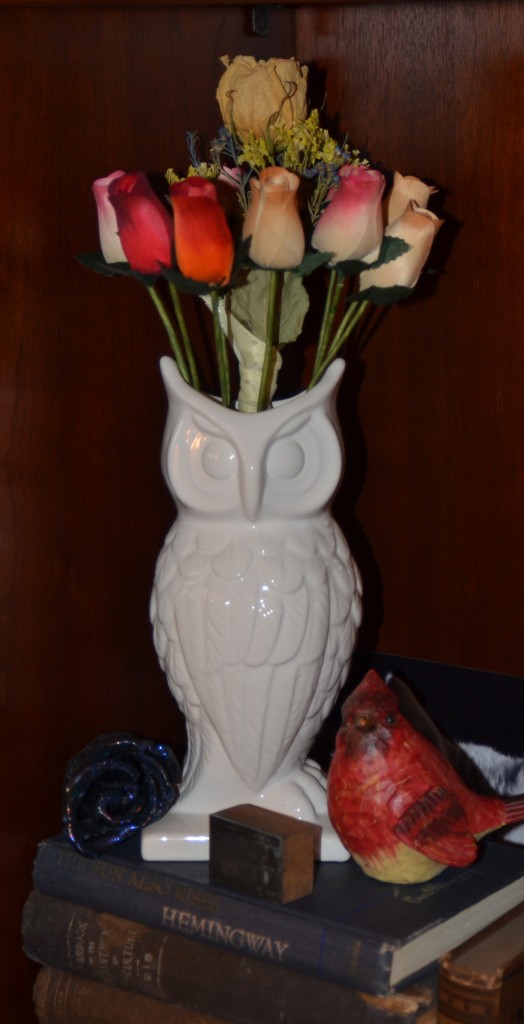 This is the first year that I have incorporated my Christmas decorations into the rest of my decor, instead of taking everything else down.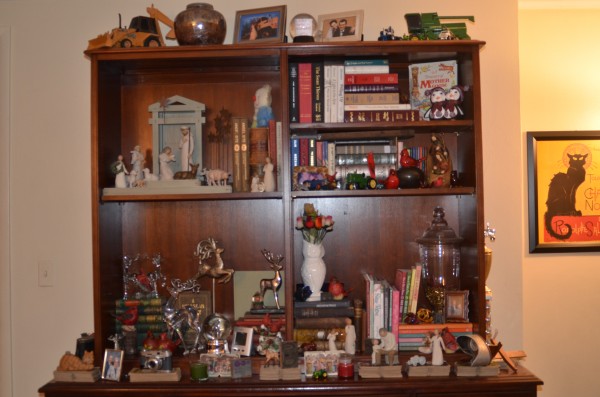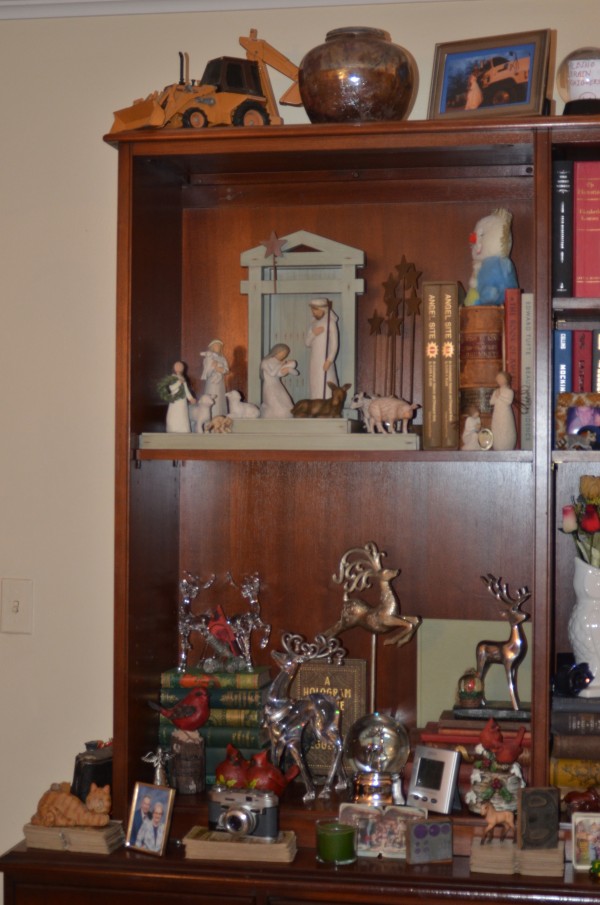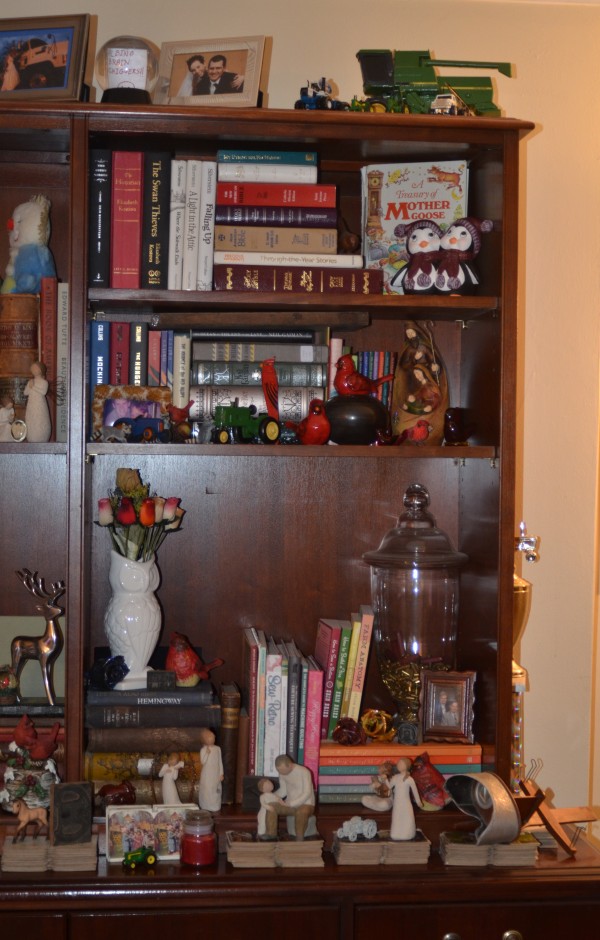 What do you think?  Is this something you would do?