Project Quilting – Sunrise/Sunset
I may have used affiliate links for some of the items in this post. Using an affiliate link to purchase an item won't cost you any more money, but I may receive payment if you click on a link and make a purchase. For more information, visit the disclosures page.
This week's Project Quilting challenge was Sunrise/Sunset. As soon as I saw the theme I knew what I wanted to do. It had to be something related to Fiddler of the Roof.
I love musicals and the song "Sunrise Sunset" from Fiddler on the Roof is one of my favorites. So without further ado, I present to you my mini quilt "Swiftly Flow the Days".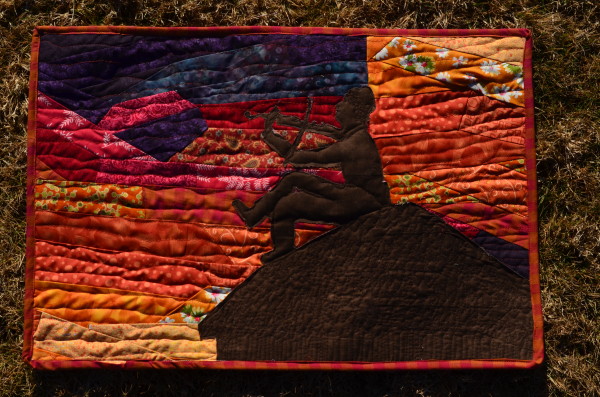 This quilt finishes at approximately 16×24″ and uses my crazy quilting technique for the background with raw edge applique for the silhouette.
This quilt is my 3rd FMQ project. I'm pleased with how the top looks, but am having some tension issues with the thread, so the back leaves a bit to be desired. It's all a good learning experience though.
Be sure to stop by and see the rest of this week's Project Quilting projects.
Sharing over at:
Project Quilting at Persimon Dreams, Thank Goodness It's Finished Friday at From Bolt
to Beauty, Finish It Up Friday at Crazy Mom Quilts