I have used affiliate links for the books in this post.
Another month into my goal of doing more reading this year, and I'm making good progress on checking things off the 2015 Reading List from PopSugar.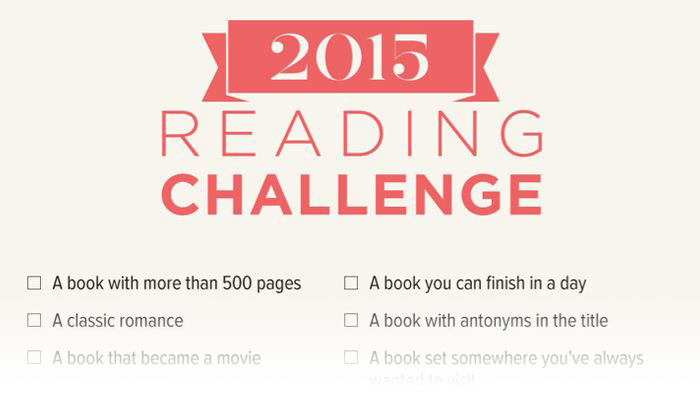 But more than that, I'm discovering again just how much I love to read.
Finished Books
Only a day after my last Book It post, I finished reading The Glassblower of Murano by Marina Fiorato. I'm normally not one for romance novels, but this one was something special. The romance was entwined with history and intrigue converging from two storylines taking place centuries apart.  I would recommend this book to any of my friends that like historical fiction, or a good romance. And especially to my good friend Kayci who is a genealogist – I think she'd really enjoy the aspects of this book involving the search for family history.
Checked off the list:
A book written by a female author
A book set in a different country – This book takes place primarily in Venice and on the island of Murano.
A popular author's first book – Though I had never heard of this author before picking up a copy of her book at my local Dollar General (yea for discount books), I've since discovered that she is fairly popular among book club readers.
A book set somewhere you've always wanted to visit- I don't often think about traveling. Why mess with all the paperwork when you can go anywhere in a book? But I do think that Venice would be a lovely place to visit.
A book by an author you've never read before
I also read The Physick Book of Deliverance Dane by Katherine Howe. It was an interesting book interweaving the stories of an early 90s doctoral student with late 17th century Salem. In the book, the lives of those past and present are inextricably woven together in a tale of family, history, and magic.
Checked off the list:
A book written by a female author
A popular author's first book
A book by an author you've never read before
A book with magic
I managed to get thru Prison of Despair (Island of Fog, Book 8 by) Keith Robinson in just 2 short days.  I read the first several books in this YA series last summer, but had to stop when I ran out of books. Fortunately, there are now 9 books, so I have one more I can read after this.  These books are a super quick read and I would definitely recommend them to my friends who enjoy a good fantasy.
Checked off the list:
A book with nonhuman characters – The inhabitants of new earth include humans, fantasy creatures, and shape shifters who are both human and not.
A book by an author you love that you haven't read yet – The 1st book I read by Robinson was the 1st book in the Island of Fog series. It was one that I got for free on my Kindle. Thanks BookBub! It was so good that I promptly purchased several others.
A book with magic
I've also read my very first book of essays.  I'm very glad that I chose Let's Explore Diabetes with Owls by Davis Sedaris as my first book of essays.  I'm generally a person who thinks that essays are quite boring, but apparently, I've just not been reading the right ones. Sedaris is witty and I think was best described in Katherine Shultz's description in the New York Times as
[bearing] zero literary resemblance to anyone else, except possibly the neurotic, gay love child of Oscar Wilde and Bruce Chatwin.
Checked off the list:
A funny book
A book of short stories
A book set in a different country – parts of it
A nonfiction book – though the etc. parts are fiction
A book based on a true story – it is essays about his life after all
A memoir – Even though this book isn't classified as a memoir, the essays are all stories of his life.
A book by an author you've never read before- I may not have read Sedaris before, but I will be looking for copies of his other books.
Currently Reading
I'm still working my way through The Way We Live Now by Anthony Trollope. It's a long book and old enough not to be written in a way that is easy to parse, so I'm taking my time with it. I don't want to speed thru the book just to say that I've read it. I want to understand it. And that means it will take some time.
I've also started reading The Traitor's Wife by Kathleen Kent. It was originally published under the title The Wolves of Andover. It's been quite interesting so far. I'm very happy with how independent the female protagonist is in this book so far.
To Read:
Some other books I'm wanting to read this year include: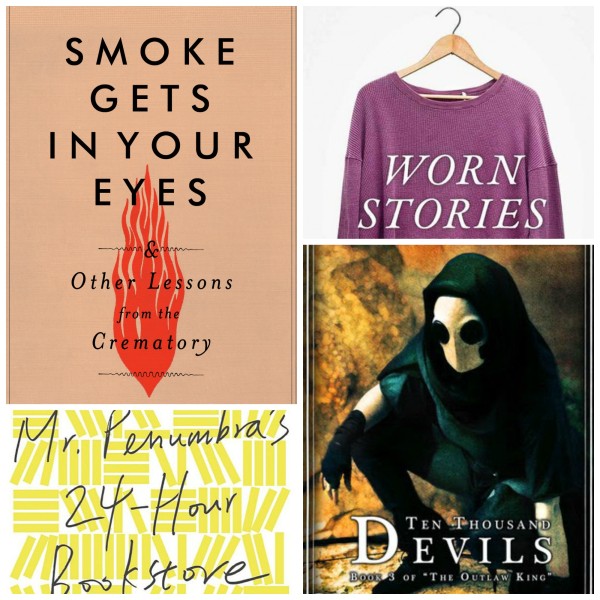 What's on your reading list?