Focus Through the Prism Challenge Review
I may have used affiliate links for some of the items in this post. Using an affiliate link to purchase an item won't cost you any more money, but I may receive payment if you click on a link and make a purchase. For more information, visit the disclosures page.
For the last seven months, I've created a 20″ mini quilt each month.  Those quilts were all part of the Focus Through the Prism Challenge over at Project Quilting.
At first, I didn't think I would be participating in the challenge, because I had to buy special fabric from Cherrywood to participate, and I was in the middle of a fabric buying ban.  However, my MIL decided to participate too, so we were able to split a bundle of fat quarters between us, meaning that officially, I didn't buy any fabric.  Thanks Mary Kay!

Each monthly challenge had a different block as the theme, and we could choose what color we wanted to make our quilt in, as long as it wasn't a color we had already used.  The monthly theme for May (the 1st month of the challenge) was Monkey Wrench.  I made my Schrodinger's Cat quilt, featuring a cute little embroidery from Wild Olive and the indigo fabric.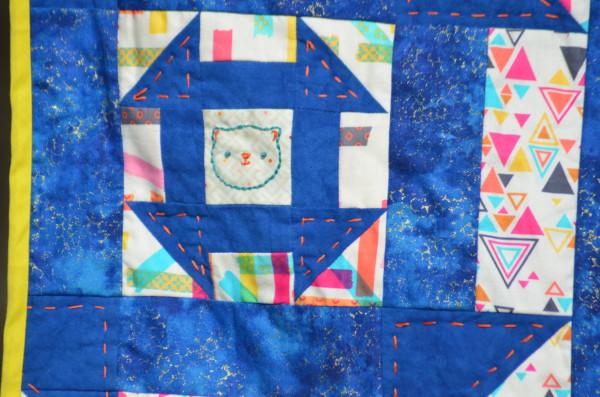 June's challenge block was the Friendship Star.  For my quilt, I chose to use the purple fabric as a background and add an alien from Urban Threads to my mini quilt, Jefferson Starship. As you will see, I added a hand embroidered character to each of my mini quilts, as an extra challenge to myself, and to practice my hand embroidery skills.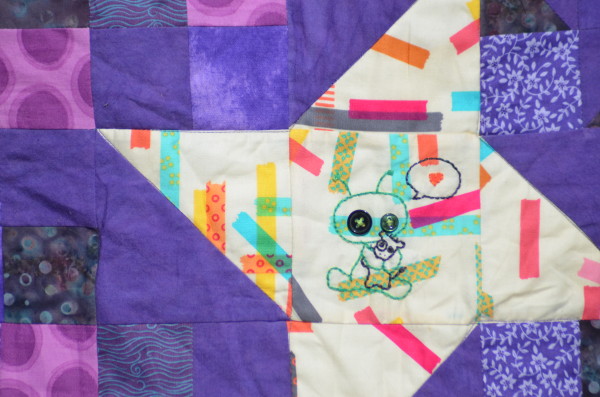 In July, the block was a basic Log Cabin. For my quilt Say Hello, I chose green fabric as my focus and added a little embroidered gnome (pattern from Urban Threads).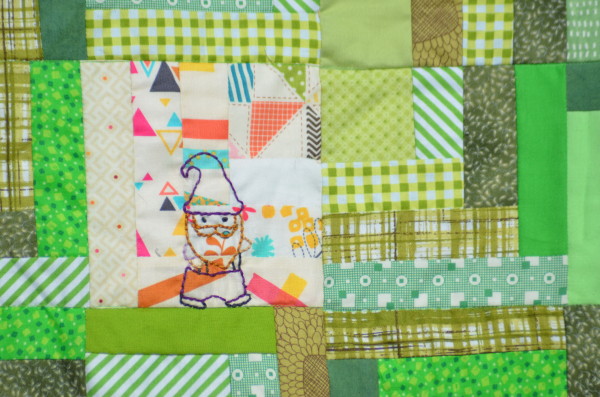 August was the month that my husband and I moved into our new house, so my mini quilt almost didn't get made, but I'm glad I set some time aside to get it done, because I love how my little red Pinwheel quilt, Puff the Fabric Dragon came out. I think that dragon (also from Urban Threads) is my favorite.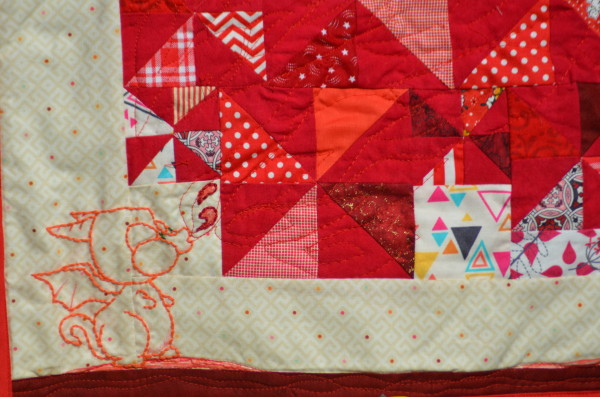 In September, I turned Flying Geese blocks into waves on an ocean and created my Baby Beluga quilt with an embroidery design from Wild Olive.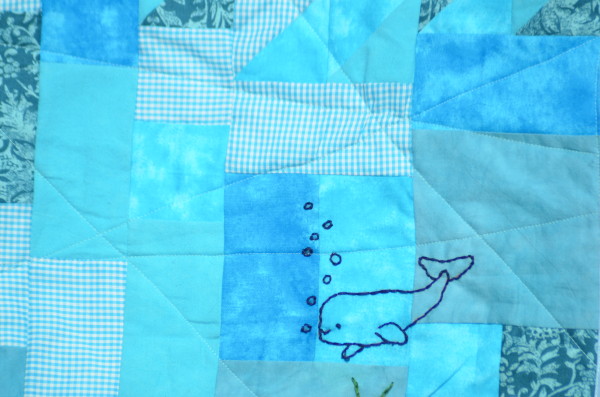 In October, I was down to two colors, orange and yellow. I was holding out for a special block for the yellow fabric (which didn't happen, but that's ok), so I used orange. Using orange in October leans toward a Halloween theme which I wanted to avoid, since none of the other quilts were seasonal. That lead to some basic 9-patch blocks with a Secret Squirrel. The ninja squirrel embroidery design was again from Urban Threads.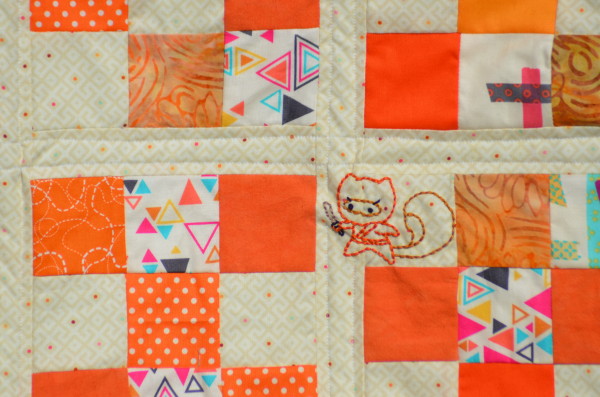 With all of my other fabrics used, my final quilt had to be yellow. And what do you make with a yellow snowball? Yellow snow, of course. My quilt Don't Eat Yellow Snow features an adorable little dog from Urban Threads.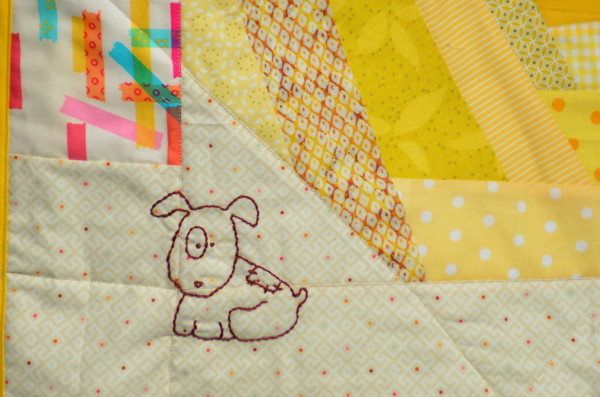 I love how all the the quilts look together. I just need to add some hanging sleeves and figure out where I want to put them in the house. I don't really have a place that I can hang them all at once, but I should be able to hang one or two and switch them out.  I'm thinking these would be fun in my office space once I get it set up.
Have you ever made a mini quilt? What did you do with yours?
Sharing over at:
Finish It Up Friday at Crazy Mom Quilts, Thank God It's Finished Friday at Quokka Quilts,
Needle & Thread Thursday at My Quilt Infatuation