Spot the Pomegranate
I may have used affiliate links for some of the items in this post. Using an affiliate link to purchase an item won't cost you any more money, but I may receive payment if you click on a link and make a purchase. For more information, visit the disclosures page.
Hi, everybody!  Spot is currently is week #17 of his or her existence.   According to the internet, that makes Spot roughly the size of a pomegranate.  Personally, I've never understood the reason that babies in utero are compared to food.  Perhaps sizes of food items are more regular somewhere else in the world, but around here, if you tell me my kid is the size of an apple, I don't know if you mean the smaller apples that you buy in a bag or the larger apples that you buy individually.  It's just not very helpful.
Fortunately for me, some other people have felt the same way, and have come up with sizing systems that don't involve produce.  So, at approximately 5.1 inches, here are a couple other things that Spot is the same size as this week:
A Large Order of Fries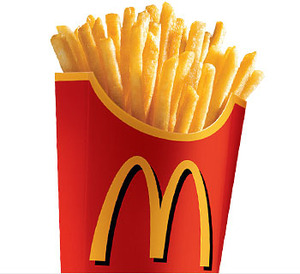 The Holy Hand Grenade of Antioch