Vintage Border Dress
I may have used affiliate links for some of the items in this post. Using an affiliate link to purchase an item won't cost you any more money, but I may receive payment if you click on a link and make a purchase. For more information, visit the disclosures page.
A while back, I came upon a photo of a dress I absolutely loved.
The dress had an amazing vintage feel, and I was simply loving the toile border print across the bottom of the dress.  So, I set about trying to figure out how to make this dress for myself.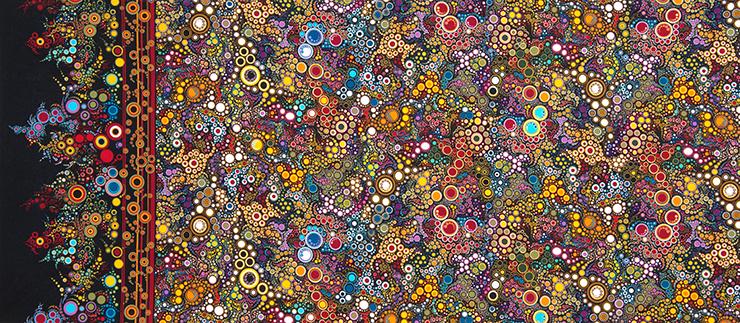 I never did find a toile border print, but I did find a fun border print that I loved – Effervescence by Amelia Caruso for Robert Kaufman Fabrics.
So, I had a great fabric, but I still needed a pattern.  I could try to make one, but I'm just not that brave yet, so instead I stopped by the sites of the big 4 pattern makers, hoping to find something in their vintage or retro section that would be close.  Can you believe that I found the actual pattern?  It's a vintage Vogue pattern (number V8789 if you'd like to make one for yourself).
I did a combination of these sample dress designs, pairing the border print on the skirt with the v-neck bodice.
I made a few other simple modifications to the pattern.  I shortened the hemline about 10 inches, and made the skirt pleated instead of drindle style – which helped the skirt to lay flatter across my (very wide) hips.  I also cut down on the amount of fabric for the skirt going from 4 yards to a little less than 3.
I also chose to do a rolled hem on the arms instead of a facing. I will eventually finish these seams further using a bias tape method.
Just a note, that since it's a vintage pattern, the sizes run ridiculously small.  I normally sew myself a 4 or 6 in new patterns, but in this one I was a size 12 (I could have maybe made a 10, but was worried about the fit through the hips).  So just be mentally prepared to sew a larger size, and possibly to do a little pattern grading if you're on the larger side.
One more addition to this dress was a tag in the back.  I'm hoping it will make it easy to pull the dress out of the closet and throw it on, even with the v-neck on the front and back of the dress.
Now, for a nice non-rainy day so I can take some well lit photos of the dress.
Sharing this project over on:
Made by You Monday at Skip to my Lou
Make It Wear It Thursday at The Train to Crazy