I'm a big fan of FollowFriday on Twitter, so I'm going to start my very own Follow Friday here at Mouse.  The idea of my Follow Friday will be to feature one of the blogs that I follow.  For my first Follow Friday, I am going to be featuring Pixies and Bears.
Pixies and Bears is a blog by Lindsay, the owner of the Pixies and Bears store on Etsy.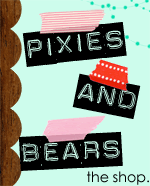 According to her:
[She loves] meeting new people, so don't be shy! Scrapbooking, journaling, making felt plushies, embroidery, painting, photography, blogging, organizing, reading, and sewing are some of my most favorite things.
Her blog is full of photos and stories about the projects she is working on, such as her most recent post Hootie and Tawnie:
… and things about her own life.  I love being able to find out more about people who are this creative.
You may also remember a recent challenge of hers that I participated in: 5 Collections in 5 Days. 
The point is, it's a pretty awesome blog, especially if you are looking for inspiration, so take some time and check it out.