These bite-sized treats resemble candy corn and have a hint of orange flavor.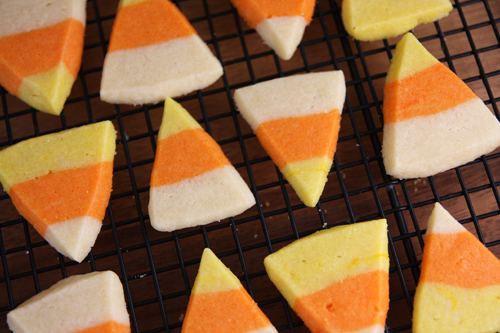 Ingredients:
1 cup butter, softened
1 cup sugar
1 egg
2 tablespoons orange juice
2 teaspoons freshly grated orange peel
1/8 teaspoon salt
3 cups all-purpose flour
1/2 teaspoon baking soda
Orange paste or gel food color
Yellow paste or gel food color
1/2 cup sugar
Instructions:
Line the bottom and sides of a 9×5-inch loaf pan with waxed paper or plastic food wrap.  Set aside.
Combine butter and 1 cup sugar in a large bowl; beat at medium speed until creamy.
Add egg, orange juice, orange peel and salt.  Continue beating until well mixed.
Reduce speed to low add flour and baking soda.  Beat until well mixed.
Divide dough into thirds.  Press 1/3 of white dough evenly onto bottom of prepared pan.
Place another 1/3 of dough back into same bowl.
Add a small amount of orange food color; mix until color is well blended.
Press orange dough evenly over white dough in pan.
Place remaining 1/3 of dough into another medium bowl.
Add small amount of yellow food color; mix until color is well blended.
Press yellow dough evenly over orange dough in pan.
Cover with plastic food wrap; refrigerate until firm (at least 2 hours or overnight).
Place 1/2 cup sugar in large bowl; set aside.
Heat oven to 375F.
Invert loaf pan to remove dough.  Peel off waxed paper.
Place layered dough onto cutting surface.  Cut loaf crosswise into 1/4-inch slices using a sharp knife, trimming edges to make even, if necessary.
Cut each slice into six wedges.
Place 1-inch apart onto ungreased cookie sheets.
Bake for 7-10 minutes or until edges are firm and bottoms are very lightly browned.
Cool one minute; remove from cookie sheets.
Immediately place warm cookies in bowl with sugar; roll in sugar to coat.
Place cookies onto cooling rack.