I recently received a digital copy of My Kitchen Wars for review from Open Road Integrated Media and NetGalley. Originally published in 1999, the new ebook edition makes My Kitchen Wars by Betty Fussell a much easier book to find.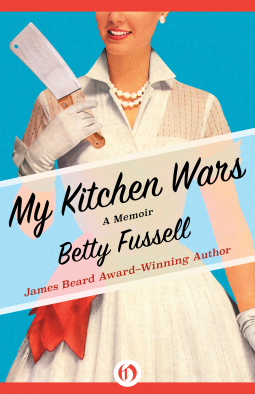 So what's this book about anyway? A Synopsis –
A survivor of the domestic revolutions that turned American television sets from Leave It to Beaver to The Mary Tyler Moore Show to Julia Child's The French Chef, food historian and journalist Betty Fussell has spotlighted the changes in American culture through food over the last half century in nearly a dozen books.
In this witty and candid autobiographical mock epic, Fussell survives a motherless household during the Great Depression, gets married to the well-known writer and war historian Paul Fussell after World War II, goes through a divorce, and finally escapes to New York City in her mid-fifties, batterie de cuisine intact.
My Kitchen Wars is a revelation of the author's lifelong love affair with food—cooking it, eating it, and sharing it—no matter where or with whom she finds herself. From Princeton to Heidelberg and from London to Provence, Fussell ladles out food, sex, and travel with her wooden spoon, welcoming all who come to the table.
But I've never heard of this author….
Betty Fussell is an accomplished writer whose essays on food, art, and travel have appeared in the New York Times, the New Yorker, Vogue, Food & Wine, and Gastronomica, among others.  She has authored 11 books, including The Story of Corn, and Raising Steaks.  Her memoir, My Kitchen Wars has been performed as a one-woman show in both New York and Hollywood.
So how was it?
With my love of memoirs still running high after Head Case and Squirting Milk at Chameleons, I wanted to start right in with another memoir.  This one was a bit harder to read than the last few memoirs have been for me – most likely because so much of her story, maybe even all of it, takes place before I was even born.
As a child of the 80s, it was hard to relate to the problems of a child growing up during The Great Depression. But once Betty's story reached her college years and marriage, I began to connect more to her story.  How can a woman not see some of herself in the lives of others living her story.
The biggest problem I had with reading this novel was that Fussell is, as she said herself-
Given to metaphor more than logic, I sometimes feared there was something wrong with my brain that made the simplest declarative sentence as tricky as a souffle.
Overall though, I did like this book. It just took me longer to get into than any of the memoirs I've read previously.  I'd recommend this book to people my age as a glimpse into the life of a wife and mother during the 50s and 60s, as well as to the older set as a way to reconnect with your past, no matter how different it may be than Fussell's.
Where can I get my copy?
You can still get a print copy of My Kitchen Wars on Amazon, but I totally recommend you check out the new ebook edition published by Open Road Integrated Media.