I recently got a chance to review and ARC (Advance Review Copy) of The Heart Goes Last by Margaret Atwood.  And I'm very excited to be able to share my thoughts on this book with you today.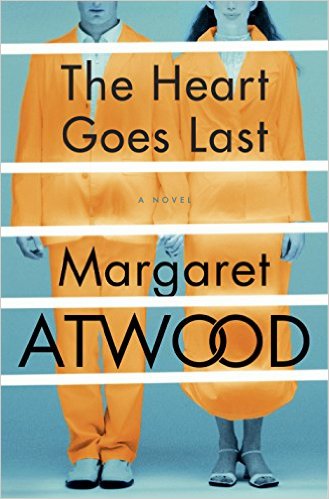 So what's this book about anyway? A Synopsis –
Stan and Charmaine are a married couple trying to stay afloat in the midst of an economic and social collapse. Job loss has forced them to live in their car, leaving them vulnerable to roving gangs. They desperately need to turn their situation around—and fast. The Positron Project in the town of Consilience seems to be the answer to their prayers. No one is unemployed and everyone gets a comfortable, clean house to live in . . . for six months out of the year. On alternating months, residents of Consilience must leave their homes and function as inmates in the Positron prison system. Once their month of service in the prison is completed, they can return to their "civilian" homes.
At first, this doesn't seem like too much of a sacrifice to make in order to have a roof over one's head and food to eat. But when Charmaine becomes romantically involved with the man who lives in their house during the months when she and Stan are in the prison, a series of troubling events unfolds, putting Stan's life in danger. With each passing day, Positron looks less like a prayer answered and more like a chilling prophecy fulfilled.
But I've never heard of this author….
Don't lie. You've totally heard of Margaret Atwood… or you've been living under a rock somewhere. Atwood is the award winning author of books such as The Handmaid's Tale (1985, winner of the 1987 Arthur C. Clarke Award and 1985 Governor General's Award, finalist for the 1986 Booker Prize), and The Blind Assassin (2000, winner of the 2000 Booker Prize and finalist for the 2000 Governor General's Award, shortlisted for the 2001 Orange Prize for Fiction.)  In short, Atwood is an amazing author, and you should read her books.
So how was it?
The Heart Goes Last is one of those books that is almost impossible to categorize.  NPR's Tasha Robinson calls the book "a Swiftian satire of imbeciles in the apocalypse." The book takes place in what I would call a dystopian parallel universe. Starting in about 2008, during the great recession, the book follows the very real plight of many families in the rust belt to the extreme.
I love that this book allowed me to take a deeper look at morally complicated societal issues, such as: the for-profit prison system and the surveillance state. And the best part is that while still enjoying an interesting, and at times fantastical tale. Once I got into the book, it was hard to put it down.
Where can I get my copy?
The Heart Goes Last is out now.  Order your copy online, or visit your favorite local bookstore.