Caturday with Bonnie
I may have used affiliate links for some of the items in this post. Using an affiliate link to purchase an item won't cost you any more money, but I may receive payment if you click on a link and make a purchase. For more information, visit the disclosures page.
Bonnie is our cat.  She's a pretty exciting cat, so for something fun, I thought I would write down a few of her adventures.  First you should know that I'm pretty sure she thinks she is a dog, because she follows people around everywhere.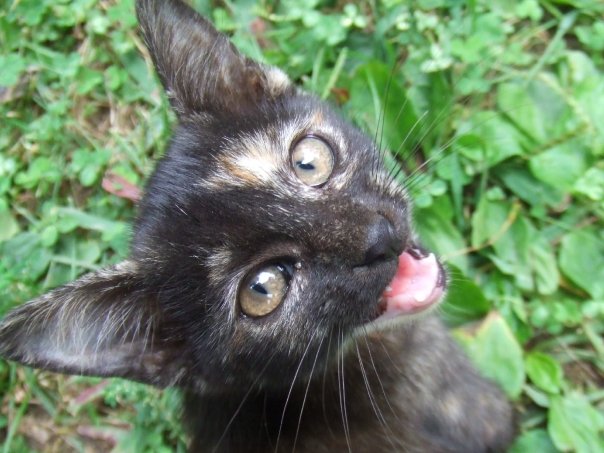 Bonnie came to live with Matt and I last summer along with her brother Clyde.  Clyde was an orange cat, and they were always together, until Clyde mysteriously died.  We think he was stepped on by a cow.  Poor Clyde.  But, Bonnie is still around, and just as friendly as ever.  She likes to be wherever there are people, which means that she basically lives at the neighbors house, since they are home during the day.
She spends a lot of time visiting with the chickens and walking in circles around the bull's feet.  This is a very unsafe practice. You would have thought she'd have learned that by now.
Recently, our neighbor, Bob got his new batch of chickens.  He gets new ones each year and sells the eggs.  This is nice, because they are cute, and I enjoy them, but this is the first time Bonnie had seen chickens that are smaller than her, so Bob has had to be very careful not to accidentally let Bonnie into the coop.