Fruit Pizza
I may have used affiliate links for some of the items in this post. Using an affiliate link to purchase an item won't cost you any more money, but I may receive payment if you click on a link and make a purchase. For more information, visit the disclosures page.
This fruit pizza is basically a giant sugar cookie in a tart pan that is iced in a philly cream cheese topping with bananas, blueberries and strawberries.
To start I always use a sugar cookie recipe with granular, instead of powered, sugar for this.  Of course, I should also mention that I make my fruit pizza in a tart pan, so it's deep dish style.  You get a lot of cookie that way, and it balances well when you use the entire spread recipe as well.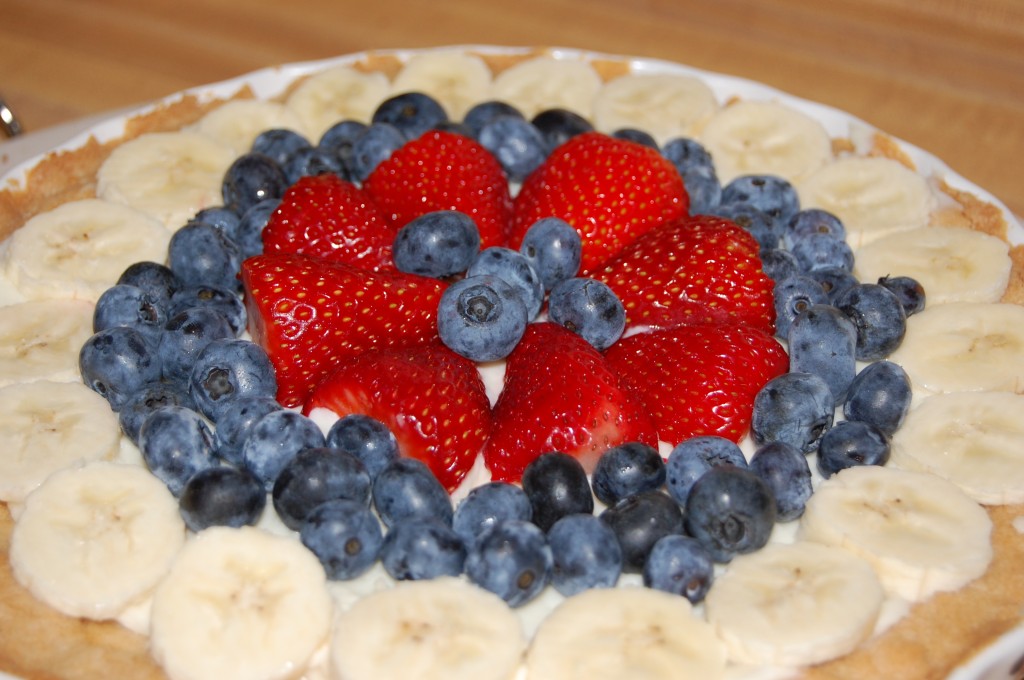 Sugar Cookie Ingredients
1 1/4 cups white sugar
1 cup butter
3 egg yolks
1 teaspoon vanilla extract
2 1/2 cups all-purpose flour
1 teaspoon baking soda
1/2 teaspoon cream of tartar
Sugar Cookie Directions
Preheat oven to 350 degrees F (180 degrees C). Lightly grease 2 cookie sheets.  Cream together sugar and butter. Beat in egg yolks and vanilla. Add flour, baking soda, and cream of tartar. Stir.   Form dough into ball and place in greased tart pan.  Flatten into pan, and bake approximately 30 mins, or until slightly browned around edges and toothpick inserted into center comes out clean.  Let cool.  Center will fall.
Spread Ingredients
1 (8 ounce) package cream cheese
1/2 cup white sugar
2 teaspoons vanilla extract
Spread Directions
Mix well. Spread liberally on top of cooled sugar cookie.  Add your favorite fruit.