Have you ever seen the rain?
I may have used affiliate links for some of the items in this post. Using an affiliate link to purchase an item won't cost you any more money, but I may receive payment if you click on a link and make a purchase. For more information, visit the disclosures page.
"Someone told me long ago there's a calm before the storm. I know, it's been comin' for some time."  And I do mean some time… It's not rained inweeks.  And my allergies are not happy about it.  I could do for some rain.
The government even says that where I live is in a moderate drought…. and there is a burn ban.  No bonfires for us.  It did rain about 2 weeks ago, and a good bit of rain, but everything was so dry that the ground is still cracked in places after that. 
In hopes of a little rain, here's a list of songs about rain.
Fool in the Rain–Led Zeppelin
Have You Ever Seen the Rain?–Creedence Clearwater Revival
Blame It On the Rain–Milli Vanilli
Kathy's Song–Simon & Garfunkle
It's Raining Again –Supertramp
Here Comes the Rain Again–Eurythmics
Can't Stand the Rain–Missy Elliot or Ann Peebles
Thunder Only Happens When It's Raining–Fleetwood Mac
Red Rain–Peter Gabriel
Singin' In the Rain–Gene Kelly or Debbie Reynolds of Jimmy Durante or Judy Garland
Rain–The Beatles
Rainy Day People–Gordon Lightfoot
Purple Rain–Prince
Early Morning Rain–Peter, Paul, and Mary
Rain–Madonna
I Love a Rainy Night–Eddie Rabbit
I Can See Clearly Now–Johnny Nash I
Somewhere Over the Rainbow–Iz
Box of Rain–The Grateful Dead
Fire and Rain–James Taylor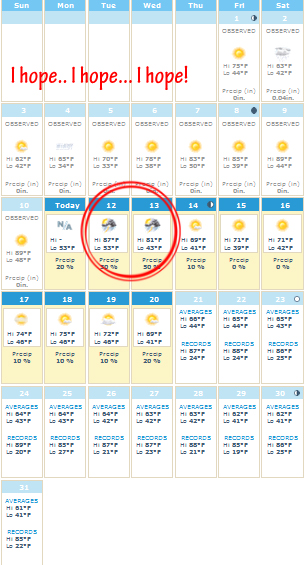 The forcast is calling for rain the next two days…. So here's hoping for a little bit of rain.  And if you know any rain dances, or other ways to get it to rain, share them!