French Nougat
I may have used affiliate links for some of the items in this post. Using an affiliate link to purchase an item won't cost you any more money, but I may receive payment if you click on a link and make a purchase. For more information, visit the disclosures page.
Just the other day, I told you about my totally awesome thrift find, of a candymaking book.  As I mentioned in that post I was really excited to try the recipe for French Nougat.  I actually learned a few interesting things while preparing to make this recipe.
You can spell syrup with an "i" -> sirup (It's spelled that way throughout the book.)
I now know the difference between strained and regular honey.
You can only get candied cherries at Christmas-time (apparently people only use them to make fruitcakes. YUCK!)
I now know what angelica is.  And, I couldn't find that either.
I was at least lucky enough that both of the ingredients that I couldn't find were ingredients that you stir in after you actually make the nougat.  I also skipped the nuts in the version that I made, so that I can take the finished product and try it out in several different types of candies.  I will most definately be dipping some of it in chocolate.
Ingredients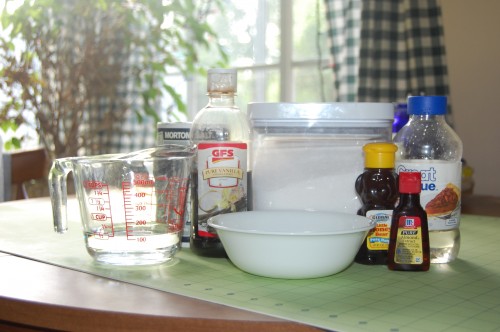 1/4 cup strained honey
1/2 cup light corn sirup
2 1/2 cups sugar
1/2 cup water
3 egg whites
1/8 teaspoon salt
1/2 teaspoon almond extract
1 teaspoon vanilla
1/2 cup almonds, blanched, toasted and chopped
1/2 cup candied red cherries or angelica, cut into pieces
Instructions
Mix honey, sirup, sugar, and water in a 2-quart saucepan.
Stir over low heat until sugar is dissolved.
Increase heat and bring mixture to boiling.
Cover saucepan and boil gently for 5 minutes.
Uncover and put candy thermometer in place.
Cook without stirring until the mixture reaches 270 degrees (soft-crack stage); washing crystals from the sides of pan occasionally.
Remove from heat.
In seperate bowl, beat egg whites and salt until soft peaks form.
Beating constantly with an electric mixer, pour syrup into egg whites.  Do not scrape the sides of saucepan.
Stop beating as soon as ingredients are throughly blended.
Stir in extracts, nuts and cherries.
When mixture falls in chunks from spoon, trn immediately into a nougat frame lined with waxed paper.
Press candy down evenly and firmly with hand.
Cover top of candy with more waxed paper and cool.
Set candy aside, tightly-covered, for at least 24 hours to ripen.
Turn out on lightly buttered board or marble slab.
If nougat sticks to pan, hold over low heat a few seconds.
Cut using a sewing motion.
Wrap in waxed paper.