The Hotel St. Francis Cookbook
I may have used affiliate links for some of the items in this post. Using an affiliate link to purchase an item won't cost you any more money, but I may receive payment if you click on a link and make a purchase. For more information, visit the disclosures page.
I found a great old cookbook today, while we were working on cleaning things out at my grama's house, The Hotel St. Francis Cookbook.  It appears to be a first addition, as there is only one copyright date.  Although, because it was published by THE HOTEL MONTHLY PRESS, it is also likely the only edition of the book.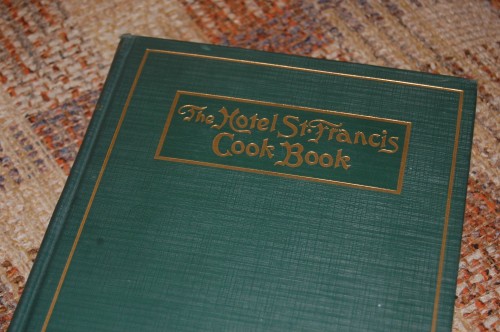 The book was written by Victor Hirtzler, former chef at the Hotel St. Francis, San Francisco; and published in 1919.   The book contains 365 days of menus for the hotel, breakfast, lunch, dinner (and supper where it applied).  Most of the recipes are for really fancy dishes, like stuffed lobster, Calf's brains au beurre noir, and Netherland style boiled whitefish.
There is also an interesting note in the preface:
The recipes in my book calling for wines and liqueurs for flavoring may be followed by those whose legitimate supplies are not used up; and where these cannot be had there are non-alcoholic substitutes available with the flavor near perfect.  The juice of lemons will serve in many cases to give agreeable flavor.
I love that the author made it a point to explain how to deal with the lack of alcohol during prohibition.
I also love how little information is in this book, considering the fact that it calls itself a cookbook.  A great example of this?  The recipe for Portage Normande from January 3rd reads as follows:
Portage Normande: Veloute with julienne of carrots and turnips.
Useful right?  Well, maybe if you're a professional chef, this is a perfectly legitamate recipe, but I'm not a professional chef.  I guess I could look up a recipe for that Veloute.  (A quick google search has informed me that this is a sauce.)
Have any of you ever seen another cookbook like this?