Thrift Find!
I may have used affiliate links for some of the items in this post. Using an affiliate link to purchase an item won't cost you any more money, but I may receive payment if you click on a link and make a purchase. For more information, visit the disclosures page.
I love stopping by the local thrift stores, antique malls, and flea markets.  I really enjoy the prospect of going into a place and finding that one thing (or 12) that I didn't know I needed.  Yesterday, I stopped by the "Vendor's Village."  It's in the old 3D, on West Broadway in Princeton, and advertises itself as the largest indoor flea market in Gibson County.  Basically, the store is a lot of booths set up by individuals to sell antiques, collectibles and all sorts of miscellaneous junk.
I was absolutely thrilled when I stumbled upon a stack of old specialty recipe books.  I was good though, I only bought one of them. 250 ways to make Candy.  It was originally published in 1969 and cost 35 cents on the magazine the rack, though I paid a dollar for it.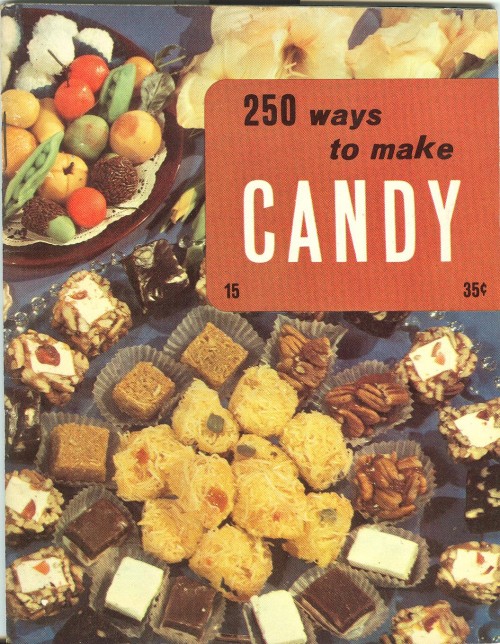 The book has chapters on:
Candymaking Equipment & Ingredients
Cereal Confections
Fondant Candies
Fudges
Caramels
Divinities & Nougats
Taffies & Kisses
Brittles & Hard Candies
Uncooked Candies
Maple Candies
Coconut Candies
Marzipans
Glaceed Fruits & Nuts
and Jellied Candies
I'm particularly interested in trying a recipe for French Nougat.  If it turns out well, I could make my own candy bars.  Although I have a feeling that it would be cheaper just to buy them at the store, there is something about making my own food that appeals to me, a sense of accomplishment. 
And have you noticed that food always tastes better when you make it yourself?  Granted, I HATE to clean after I've cooked, but that doesn't seem to stop me from making my own food.  The way I figure it, if I cook dinner, and make dessert, my husband can do the dishes.  Too bad, I haven't convinced him of that yet. 
What is your favorite type of candy?  Do you ever make it yourself?