The Stacker Saga
I may have used affiliate links for some of the items in this post. Using an affiliate link to purchase an item won't cost you any more money, but I may receive payment if you click on a link and make a purchase. For more information, visit the disclosures page.
For those of you who have been following my descriptions on facebook about the Stacker, here is a more detailed story. This tale goes back many years when some evil ag engineer at Hesston KS decided that baling hay was too complicated with all those strings, wires, needles, knotters etc. He thought loose stacked hay was going to come back into style (just like the mullet and the Burt Reynolds's mustache) So he invented the Hesston Stakhand 10. Which makes a bale that looks like this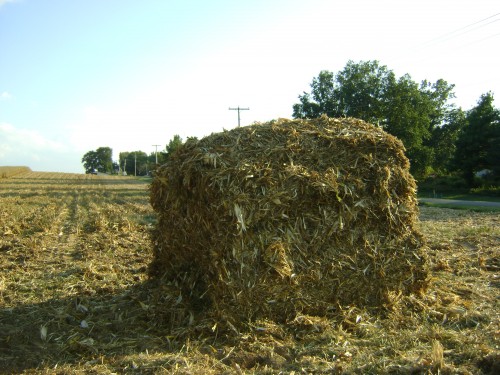 It features the advantages of a round bale. It's large and sheds water without any of the advantages. Mainly ease of transportation. But they had one major advantage, they were cheap. Which is why most farmers bought them.
Now fast forward to the mid 80's where my dad is using a StakHand to make several hundred bales a year to feed cattle. I really don't remember the StakHand being used but I remember bales of cornstalks being around. But since the early 90's the Stacker sat here unused, unloved. Just waiting for someone to cut it up and sell it for scrap.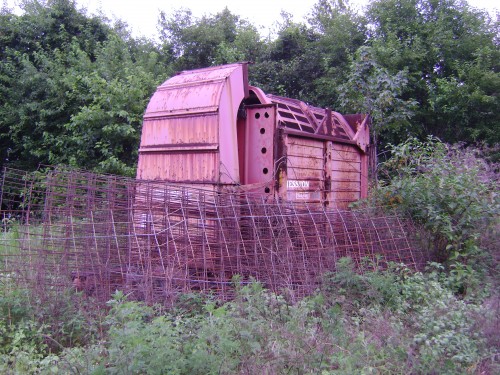 Due to adverse weather conditions hay is going to be a little scarce this year and I knew I needed to do something to stretch our hay supply into the winter. I had given thought to rebuilding the stacker at different times but either dismissed it or woke up.
I made my mind up that I had to do something so I began to investigate resurrecting the Stacker. It wouldn't be the first time I helped dig something out of the weeds and make it useful again. We brought the crane back to life to build the new barn, I junked and restarted the red ford at least once, (which is parked next to the stacker) fixed a sprayer for dad, and built a magnificent pasture drag out of a junk pile. And God knows how many times I walked out into the junk pile looking for a particular piece of metal to finish a project.
So one fine afternoon I set to work retrieving the stacker from what was her final resting place. And much to my surprise the tires still had air in them! With a chain and the 4020 I drug her out of her hole for the first time in many years. Apparently a family of groundhogs had used the taken up residence under this fine piece of equipment and she had slowly sunk into the ground. Once I got it pulled out I hooked up the hydraulic hoses full expecting them to blow but low and behold they held and for the first time in over a decade the flail raised up, then I raised and lowered the roof. I'll be damned this gets better and better.
I felt a strange sense of pride as I pulled her to her up near the shop where I could work on it. Once it was out of the weeds I was able to get a better look at it. The belts were shot, the hoses shot and the chains were rusted tight. Great I must be crazy to try this.
The first order of business was to grease everything I could find. After careful examination of the machine for grease fittings I found that most of them wouldn't take grease. I did manage to get the door to open and got a look inside. The drag chain was rusted together, the floor looked like it could fall apart and any moment and I could see daylight through the sides. Part of me says I'm crazy, the other half of me says I've got to try and fix this, just for the challenge. I'm a good enough mechanic, fabricator repair man I can bring this back to life.
Buy Amoxicillin
Buy Clomid
Buy Cymbalta
Buy Cytotec
Little by little I managed to fix the stacker; I soaked the chains in oil and diesel until they were free. Of course the big pipe wrench helped too. I bathed the hammers in Hagen Brew, if it moved I oiled it like an Arabian Sheik. I replaced the old rubber flaps with new coal belting. I drained the water out of the gear box and replaced it with new oil. And then the real moment of truth, I backed the 4020 up to the stacker, hooked up the hoses and hitched the PTO shaft, for and engaged everything. The flail kicked up dust, the drag chain ran and the door opened. Everything worked! In one week I had gone from skid row to working machinery. Now I was ready, bring on the combine the Hesston waits for no one.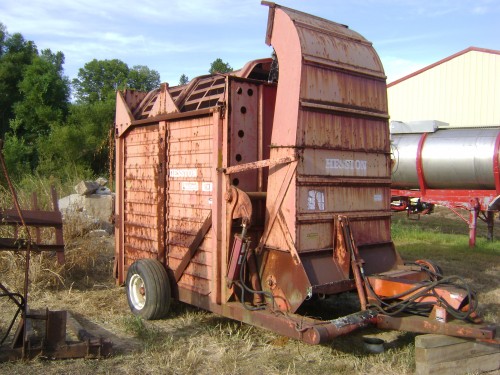 Once Dale started shelling I still had some finishing touches that needed to be done, mainly the ropes that ran the drag and pull open the door. Some people have tractors and combines that drive themselves and I'm running a piece of equipment that still has pull ropes. So late one Tuesday night I hooked everything up and made one pass behind Ruby's house and she worked! It was nearly dark but It was a successful first voyage. The next day I rushed home from school (hmm rushed home from school to Lyles Station when I have done this before?) I jumped in and started running.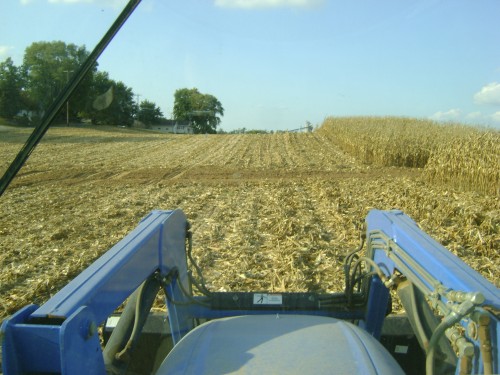 My little rig worked flawlessly. It was incredibly satisfying to see all my hard work finally paying off. I was able to make the first stack and get it unloaded near Gary's house close to the road, I wanted to make sure that everyone could see what I had done.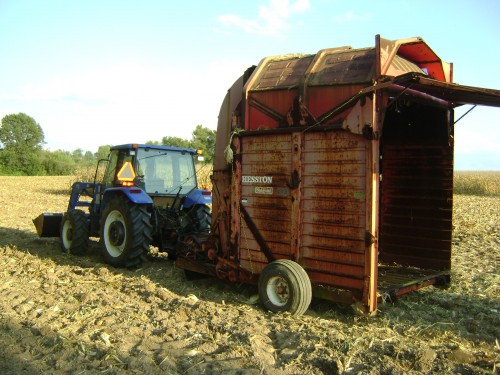 I was able to make 3 good bales before Lady Luck decided to strike back. On the 4th bale I opened the door and could see oil was leaking from one of the roof cylinders I was able to get the bale unloaded but the door leaked down and knocked part of the top off. Oil was pouring out of the top seal of the cylinder so I called it quits for the night. But by then I had proved my point. I was right, I could rebuild the stacker and make her run. I'm still not done, the cylinder is currently being fixed and when I get it back I'm gonna run some more. I may be crazy but it's kept me from going insane.