Bread-and-Butter Pickles
I may have used affiliate links for some of the items in this post. Using an affiliate link to purchase an item won't cost you any more money, but I may receive payment if you click on a link and make a purchase. For more information, visit the disclosures page.
The following is the recipe for the bread-and-butter type crisp pickle slices in the 1972 Better Homes and Gardens New Cook Book.  They win blue ribbons each year at the county fair.  I make these with fresh garden cucumbers every summer and give them away as gifts at Christmas.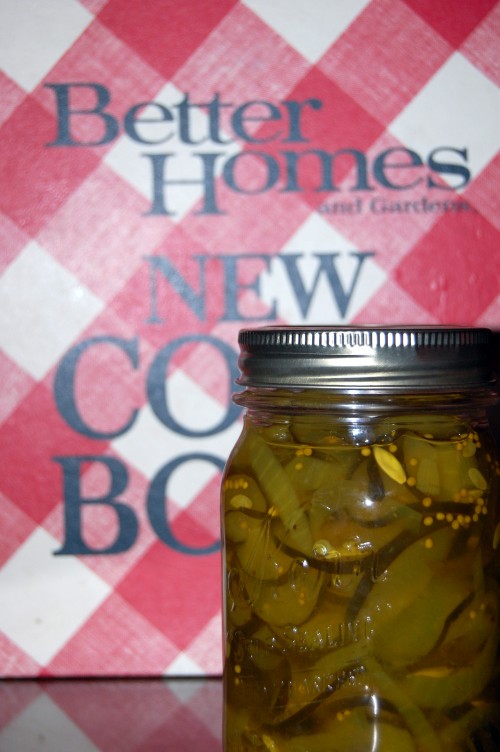 Ingredients:
4 quarts sliced, unpared, medium cucumbers (I can usually get 4 quarts from 4-5 cucumbers, but mine are usually larger than medium.) – You can use more than 4 quarts. This seems to be the minimum.  I cut mine at the 1/8 inch setting on my mandolin slicer.
6 medium white onions, sliced (6 cups) – I often use 2 large onions, and use Vidalia onions when they are less expensive.
2 green peppers, sliced (1 2/3 cups) – I will use up to 3, if I have a large amount of cucumbers.
3 cloves garlic – Can replace with dried, minced garlic.
1/3 cup granulated pickling salt – Can use regular salt, if you are out of pickling salt.
5 cups sugar
3 cups apple cider vinegar
1 1/2 teaspoons turmeric
1 1/2 teaspoons celery seed
2 tablespoons mustard seed
Instructions:
Combine cucumber, onion, green pepper, and whole garlic cloves.
Add salt.
Cover with cracked ice and mix thoroughly.
Let stand 3 hours and drain well.
If garlic cloves were used, remove garlic.
Combine remaining ingredients, and pour over cucumber mixture.
Bring to a boil.
Fill hot jars to 1/2 inch from top; adjust lids.
Process in boiling water bath for 5 minutes. (Start timing when water returns to boiling.)
* The recipe states that it makes 8 pints, but this will really depend on the actual amount of cucumbers you are able to process at one time.
Sharing over at:
Homestead Blog Hop at The Houseful of Nicholes
Save