Browned Butter Cookies with Caramel Frosting
I may have used affiliate links for some of the items in this post. Using an affiliate link to purchase an item won't cost you any more money, but I may receive payment if you click on a link and make a purchase. For more information, visit the disclosures page.
These browned butter cookies take a little time to make, since they require heating and cooling before they are even baked, but they are well worth the trouble.  My mom and I originally found this recipe in the December 2008 Betty Crocker Christmas Cookies publication.  They are super amazing, just make sure not to over-bake them, burnt butter is no where near as good as browned butter.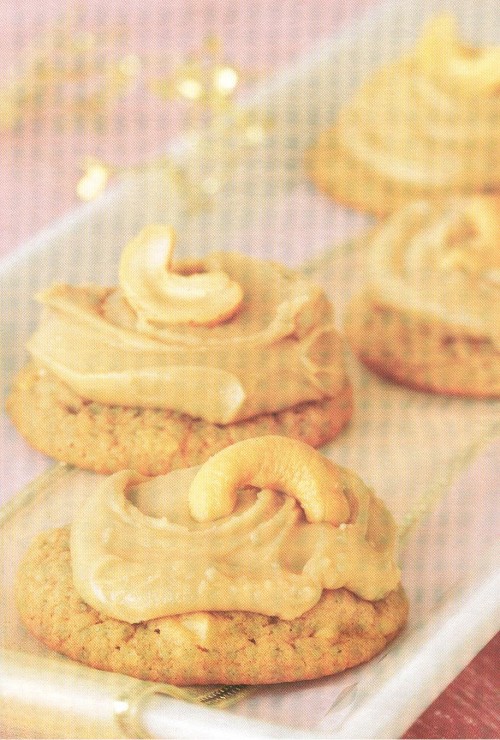 Cookie Ingredients:
1/2 cup butter (do NOT use margarine for this recipe)
1 cup packed brown sugar (I like dark brown, but you can use light)
1/4 cup milk
1 teaspoon vanilla
1 egg
1 3/4 cups all-purpose flour
1/2 teaspoon baking soda
1/2 teaspoon salt
1/2 cup chopped cashews (I always leave these out)
Cookie Instructions:
Pre-heat oven to 375F
In heavy 2-quart saucepan, melt 1/2 cup butter over medium heat.
Cook stirring constantly until butter is light brown.
Pour butter into large bowl.
Cool 5 minutes.
Add 1 cup brown sugar, 1/4 cup milk, 1 teaspoon vanilla and 1 egg, stirring with spoon.
Add in flour, salt and cashew pieces (if desired), mixing well.
Drop dough onto prepared cookie sheets by rounded teaspoonfuls 2-inches apart.
Bake 8-10 minutes or until almost no indention remains when touched in center.
Remove cookies from oven and allow to cool on pan for 1-2 minutes before removing to cooling rack.
Cool completely, about 30 minutes.
Frosting Ingredients:
1/2 cup butter (do NOT use margarine for this recipe)
1 cup packed brown sugar (I like dark, but you can use light)
1/4 cup milk
1 teaspoon vanilla
2 cups powdered sugar
1/2 cup cashew halves for decoration (if desired – again something I leave out – I don't like cashews)
Frosting Instructions:
In 2-quart saucepan, melt 1/2 cup butter over medium heat.
Stir in 1/2 cup brown sugar
Heat to boiling, stirring constantly.
Stir in 1/4 cup milk.
Heat to boiling again before removing from heat.
Stir in 1 teaspoon vanilla.
Cool to luke-warm, about 30 minutes.
Gradually stir in powdered sugar.
Spread about 1 tablespoon of frosting on each cookie and top with cashew half (if desired)