Burbon Street Beignets
I may have used affiliate links for some of the items in this post. Using an affiliate link to purchase an item won't cost you any more money, but I may receive payment if you click on a link and make a purchase. For more information, visit the disclosures page.
For those of you who have never heard of them beignets (pronounced "been-yea-s") are basically fancy homemade doughnuts (meaning we're not going to make them out of canned biscuits. This is a recipe from the KitchenAid collection.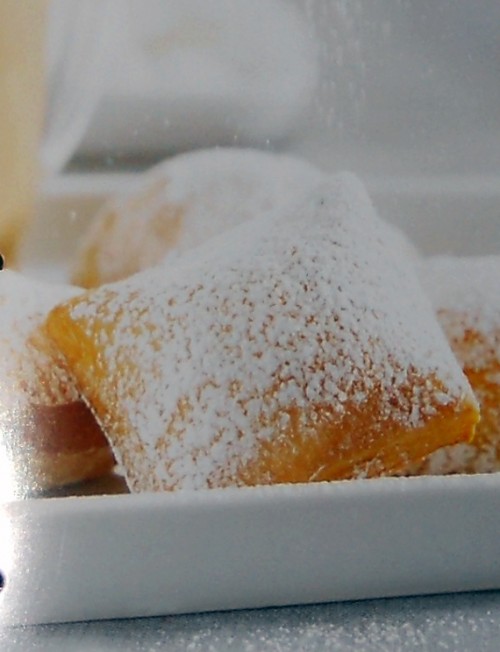 Ingredients:
1 package dry active yeast
1/4 cup warm water (105° – 115° F) – yes this recipe is that particular
1/4 cup granulated sugar
2 tablespoons shortening
1/2 teaspoon salt
1/2 cup boiling water (212° F)
1/2 cup heavy cream
1 egg, beaten
4 to 4 1/5 cups flour, divided
Oil for deep frying
Powdered Sugar
Instructions:
Dissolve yeast in warm water, set aside.
Stir together granulated sugar, shortening, salt, and boiling water in large bowl.
Stir until shortening is melted and sugar dissolves.
Cool to luke-warm.
Add cream, egg, 3 cups flour and yeast, stir to combine.
Stir in remaining flour 1/2 cup at a time, mixing until soft dough forms.
Turn out onto lightly floured surface and knead for approximately two minutes.
Roll into a 24×2-inch rectangle.
Using a sharp knife, cut dough into 2-inch squares.
Pour oil into a heavy saucepan or deep fryer to a depth of 2-inches.
Heat oil to 360° F.
Fry doughnuts 4 at a time, turning to brown on both sides, about 3 minutes.
Drain on paper towels and sprinkle with powdered sugar.
*Doughnuts can be filled with custard, whipping cream or jelly with a pastry tube prior to sprinkling with powdered sugar.
Makes 5 dozen.