Cinnamon Cookies
I may have used affiliate links for some of the items in this post. Using an affiliate link to purchase an item won't cost you any more money, but I may receive payment if you click on a link and make a purchase. For more information, visit the disclosures page.
These cookies were originally titled "Cinnamon Cardinal Cookies" in the December 2008 Betty Crocker Christmas Cookies publication.  I've retitled it here, because these cookies look cute decorated as more than just cardinals.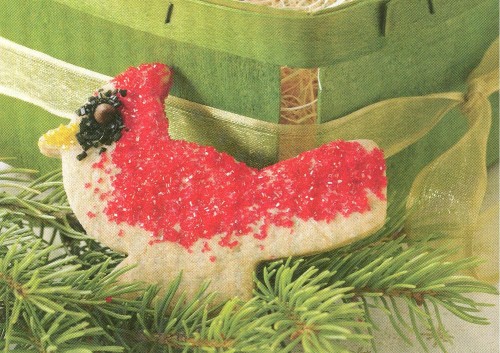 Ingredients:
1/2 cup butter, softened
1/2 cup packed light brown sugar
1 teaspoon vanilla
2 cups all-purpose flour
1/4 teaspoon baking soda
1 1/2 teaspoons ground cinnamon or cardamom
1/3 cup whipping cream
Instructions:
In a large bowl, beat butter and brown sugar at medium speed until light and fluffy.
Stir in vanilla and set aside.
In small bowl, combine flour soda and cinnamon.
On low speed beat flour mixture into butter mixture, adding flour mixture alternately with cream.
Divide dough in half, wrapping halves separately in plastic wrap.
Refrigerate until firm, at least 30 minutes.
Heat oven to 350F.
On lightly floured surface, roll half of dough at a time to approximately 1/8-inch thick .
Cut out shapes (book recommends a 3-inch cardinal) and place on prepared cookie sheets.
Decorate with sugar crystals if desired.
Bake 8-10 minutes or until lightly brown and set.
Cool on cooling rack.