Farmer's Daughter Pate Sucree
I may have used affiliate links for some of the items in this post. Using an affiliate link to purchase an item won't cost you any more money, but I may receive payment if you click on a link and make a purchase. For more information, visit the disclosures page.
This pie dough is a sweet dough, which is great for tarts.  It has a lot of butter, so it's harder to handle than all-purpose doughs.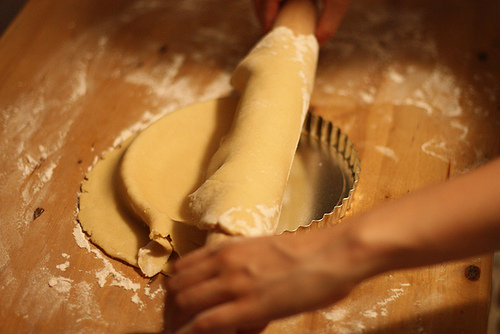 Ingredients:
1/2 lb. unsalted butter, softened
1/2 cup sugar
2 egg yolks
2 teaspoons vanilla extract
2 1/2 cups all-purpose flour
pinch of salt
Instructions:
In a medium bowl, beat sugar and butter together untill fluffy.  Scrape the mixer paddle and sides of the bowl repeatedly.
Add vanilla and yolks; beat, scrape and beat again until smooth and light.
Add flour and salt. Beat on low until there are no streaks of flour left. (Do not overbeat, or let butter warm up)
Scrape finished dough onto clean work surface and wrap well in plastic wrap.  Refrigerate for at least 1 hour before use.  6-8 hours is ideal.
*When rolling this dough – cracks mean the dough is too cold, tears means it is too warm.