Ginger Squash Muffins
I may have used affiliate links for some of the items in this post. Using an affiliate link to purchase an item won't cost you any more money, but I may receive payment if you click on a link and make a purchase. For more information, visit the disclosures page.
This recipe for Ginger Squash Muffins comes from the KitchenAid Recipe Collection.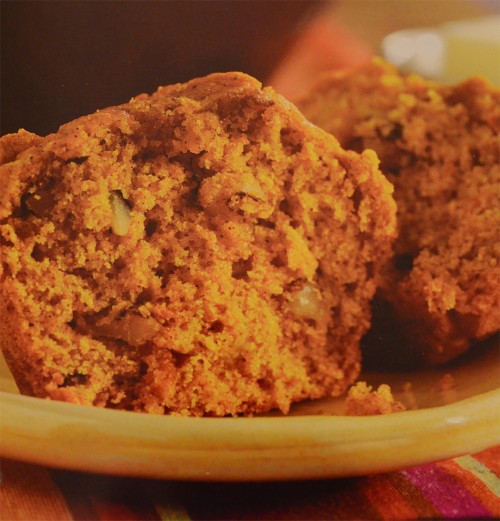 Ingredients:
1 1/2 cups all-purpose flour
1/3 cup whole wheat flour (I substituted more all-purpose)
1/3 cup granulated sugar
1/4 cup packed dark brown sugar (I always buy dark brown, it has more flavor)
2 1/2 teaspoons baking powder
1 teaspoon ground cinnamon
1/2 teaspoon baking soda
1/2 teaspoon salt
1/2 teaspoon ground ginger
1 cup frozen thawed squash (I just shredded some fresh, like I was making zucchini bread)
2 eggs, beaten
1/3 cup canola oil
1/4 cups finely chopped walnuts (optional)
2 tablespoons finely chopped crystallized ginger (optional)
Instructions:
Preheat oven to 375. Spray 12 standard muffin cups with non-stick cooking spray. (I actually made a loaf, in a single loaf pan.  I doubled the recipe for this.)
Combine all-purpose flour, whole wheat flour, granulated sugar, brown sugar, baking powder, cinnamon, baking soda, salt and ground ginger in a large bowl.  Mix well.  Combine squash, eggs and oil in a small bowl until well blended.  Pour squash mixture over flour mixture.  Stir with spoon until dry ingredients are incorporated. (Do not beat.)  Stir in walnut and crystallized ginger.  Spoon batter into prepared pan, filling about 2/3 full.
Bake muffins for 18-20 minutes or until muffins are golden brown and toothpick inserted into center comes out clean (I had to cook the loaf about 40 minutes).  Cool muffins in pan for 5 minutes (or about 20 minutes for a loaf) before removing to cool on wire rack.