Pâte Brisée (Tart Dough)
I may have used affiliate links for some of the items in this post. Using an affiliate link to purchase an item won't cost you any more money, but I may receive payment if you click on a link and make a purchase. For more information, visit the disclosures page.
This recipe for tart dough is used in a majority of the recipes in my copy of Martha Stewart's Pies and Tarts.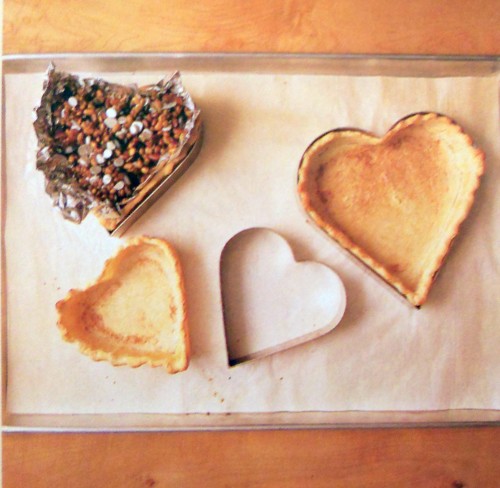 Ingredients:
2 1/2 cups all-purpose flour
1 teaspoon salt
1 teaspoon granulated sugar
1 cup cold unsalted butter, cut into small pieces
1/4 to 1/2 cup ice water
Instructions:
Put flour, salt, and sugar in bowl of food processor.  All ingredients should be cold.
Add butter and process for approximately 10 minutes, or just until mixture resembles coarse meal. (you can also do this by hand with a pastry cutter)
Add ice water drop by drop through feed tube with machine running, just until the dough holds together without being wet or sticky.
Do not process more than 30 seconds.
Test dough by pressing a small amount together, if it is still crumbly, add a bit more water.
Turn dough into a large piece of plastic wrap, press into a flat circle and refrigerate for at least an hour.