Zucchini Cakes
I may have used affiliate links for some of the items in this post. Using an affiliate link to purchase an item won't cost you any more money, but I may receive payment if you click on a link and make a purchase. For more information, visit the disclosures page.
This recipe for zucchini cakes is super good.  It comes from my KitchenAid Recipe Collection – though there's not a thing in this recipe that really requires a mixer.  At my house this recipe is super great this time of year, because with Lent, Matt & I aren't supposed to eat meat on Friday, and unfortunately Matt doesn't like fish or seafood (though he'll eat popcorn shrimp – probably because it's almost completely breading). Oh, and he also likes salmon patties, but I don't like those… Lent is really difficult around here. That makes this recipe a nice substitute for salmon cakes, or something like that.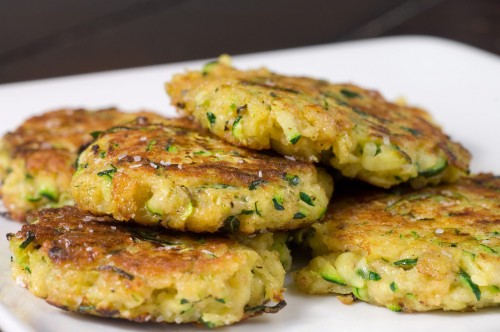 Ingredients:
2 cups grated zucchini (this is approximately 2 5-inch zucchinis)
1/4 cup all-purpose flour
1/4 cup chopped green onions
1/4 cup fresh parsley
1 egg
1/4 teaspoon garlic salt
non-stick cooking spray
sour cream & lemon wedges (optional)
Instructions:
Combine all ingredients (except sour cream and lemon wedges) in the bowl of a food processor or blender; process until well blended.
Pour batter into medium bowl and set aside.
Heat small skillet over low heat 1 minute, lightly spray with cooking spray.
Spoon 2 tablespoons of better into skillet
Cook 1-2 minutes on each side.
Serve with sour cream and lemon wedges if desired.