Crispy Herb Fried Chicken
I may have used affiliate links for some of the items in this post. Using an affiliate link to purchase an item won't cost you any more money, but I may receive payment if you click on a link and make a purchase. For more information, visit the disclosures page.
This is another great recipe that was advertised in the Nov. 1979 Cuisine. I've been thinking about attempting to fry my own chicken for a while now, and this recipe might just get me there. However, although I really do love fried food, I hate it when it turns out greasy! I feel like my throat gets covered in oil… I've done my research so hopefully the same won't happen with this recipe. If it does turn out too greasy for my liking, I'm thinking about getting the best air fryer and recreating the dish in there. I heard they're pretty good for making homemade fries too so I could be trying a lot of new recipes. I'll keep you updated with my culinary adventures.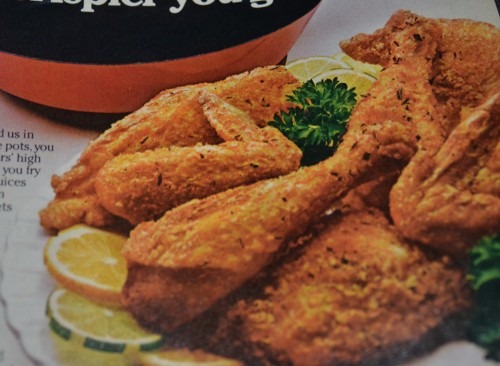 Ingredients:
1/2 cup flour
1/4 cup fine dried bread crumbs
1/4 teaspoon tarragon leaves
1/4 teaspoon chives
1/4 teaspoon parsley flakes
1/8 teaspoon ground black pepper
1/8 teaspoon garlic salt
1 (3-4 lb) frying chicken, cut into pieces
frying oil of choice — this recipe calls for Planter's Oil
Instructions:
Mix together flour, bread crumbs, and spices.
Wash chicken and pat dry.
Coat chicken pieces with flour mixture.
In large frying pan, heat about 1-inch of oil to 400 degrees.
Fry chicken pieces until golden brown, about 8-10 minutes.
Turn pieces and continue frying until evenly browned and tender.
Remove chicken from oil and drain.