Peach Pecan Amaretto Preserves
I may have used affiliate links for some of the items in this post. Using an affiliate link to purchase an item won't cost you any more money, but I may receive payment if you click on a link and make a purchase. For more information, visit the disclosures page.
This recipe for Peach Pecan Amaretto Preserves with Golden Raisins is amazing.  This recipe takes quite a while, especially if you wait the 2 weeks for the preserves to mellow before you eat it, but the final product is well worth the work.  As a head's up – this recipe took me about 2-1/2 hours from start to finish, including the prep and processing.  I got 2-1/2 pints of preserves.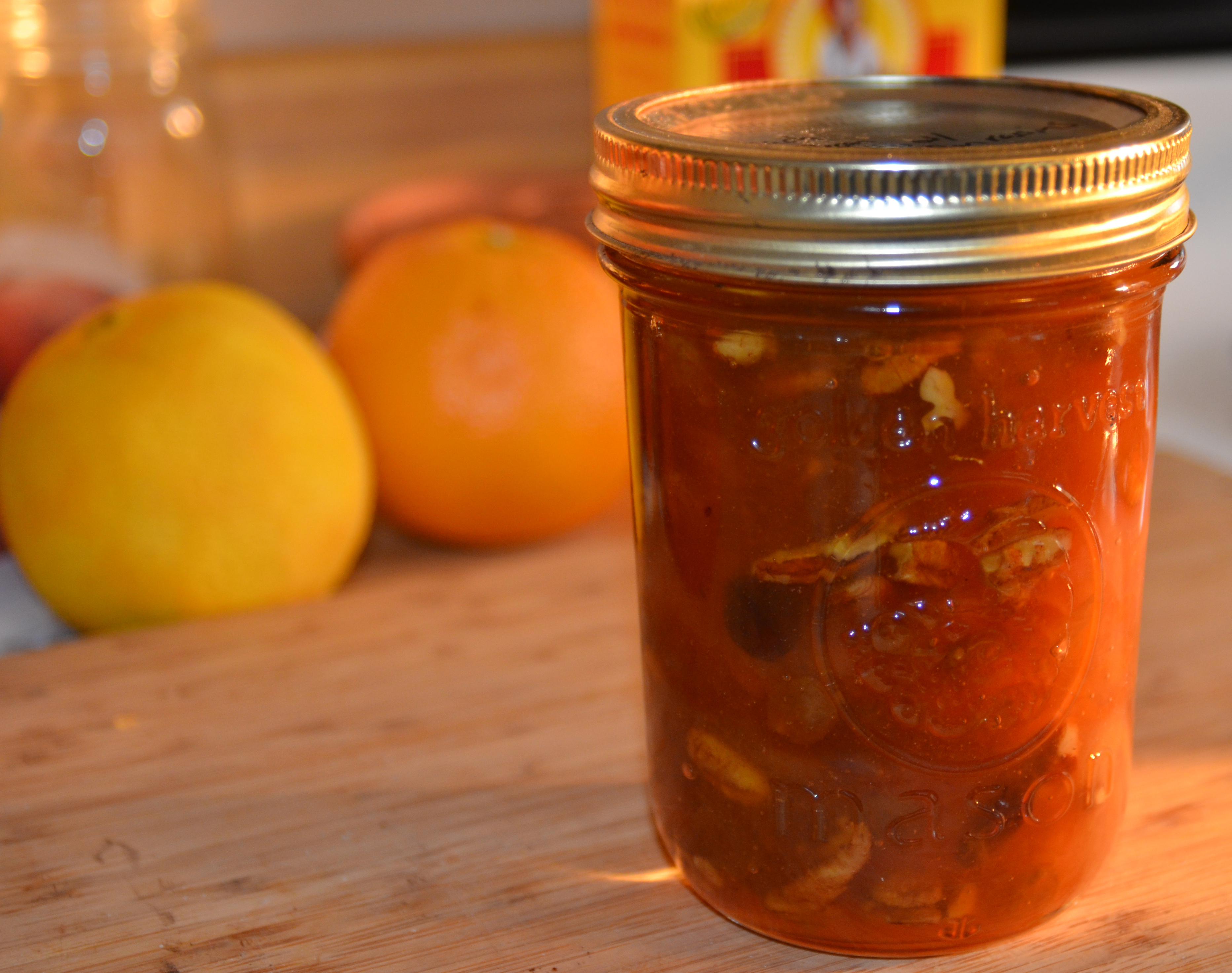 Printable Recipe

Peach Pecan Amaretto Preserves
Total Time
2
hours
30
minutes
Ingredients
2

lbs

peeled and pitted peaches

1

cup

golden raisins

3/4

cup

water

more if needed

1 1/2

tablespoons

finely grated orange zest

2

tablespoons

strained fresh lemon juice

3

cups

sugar

1/2

cup

pecan halves or 1/2 cup pecan pieces

3

tablespoons

amaretto liqueur
Supplies
canning jars, lids, and rings

large pot for water-bath canning
Instructions
In a heavy, non-reactive saucepot combine raisins and water and let raisins soak until they plump. (I have no idea what a non-reactive saucepot is, so I just used the big heavy pot I use for my caramels.) – This took about an hour. I recommend putting them in to plump before you start peeling and pitting your peaches.

Cut your peeled and pitted peaches into halves or quarters and combine them with the plumped raisins and water.

Add zest and heat mixture to simmering until very tender, about 15 minutes.

Stir in lemon juice and return to a boil.

Add sugar and cook over medium heat, stirring very frequently with a flat bottom wooden spoon, until thick, about 30 minutes.

Test Mixture: Put a spoonful on a chilled saucer and let it cool; when saucer is held on edge, the surface of the jam should wrinkle.

Add the pecans and cook, stirring, about 5 minutes longer.

Remove from heat and stir in the Amaretto.

Ladle into hot, clean canning jars, leaving 1/4 inch head space.

Seal with new two-piece lids according to manufacturer's directions and process for 10 minutes in a boiling water bath.

Cool, label, and store.

Best if allowed to mellow in the jars for two weeks before serving.

 This post is linked up at: Positively Splendid