Using Pectin
I may have used affiliate links for some of the items in this post. Using an affiliate link to purchase an item won't cost you any more money, but I may receive payment if you click on a link and make a purchase. For more information, visit the disclosures page.
It's spring, which means it's time to start thinking about your garden and what you want to put in it.  For me, that means thinking about what I want to make with my plants from the garden – and lately I've been a big fan of jams and jellies.  Really, this means I need to plant a lot of fruits in my garden – things like strawberries, and blackberries.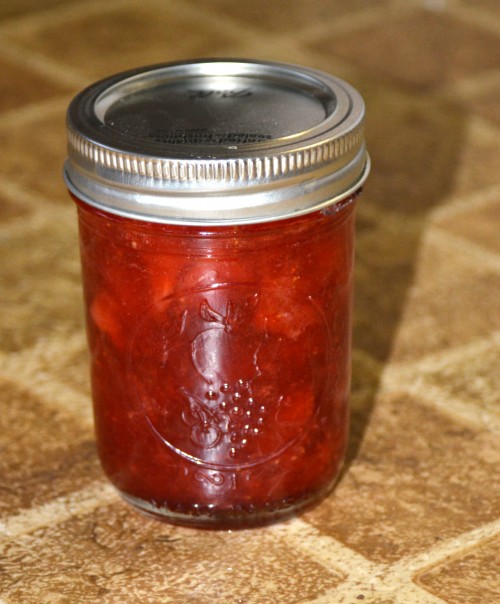 Of course you can also make jams and jellies with odd ingredients like peppers and mint.  But today, I want to share with you one of the most important parts of the the process – the pectin.
So what is pectin?
Pectin is a naturally occurring substance (a polyscaccaride) found in berries, apples and other fruit.  When heated together with sugar, it causes a thickening that is characteristic of jams and jellies.
Pectin isn't necessary.  You can stand over a hot, boiling pot, stirring and getting splattered by hot jam until you cook all the vitamins out and it finally reaches a thicker consistency.
What types of pectin are there?
There are 8 main types of pectin.
Regular
Low-Sugar
No-Sugar
Modified Citrus
Freezer
Liquid
Low-Methoxyl
Homemade
Regular Pectin

Regular pectin, often sold as "Sure Jell" or "Ball Brand Regular Pectin" require sugar be added to create the jelling reaction needed to make jams and jellies.  I use this type of pectin regularly to make jellies from fruit juices, such as blackberry and cherry.
Low-Sugar Pectin
Low–sugar pectin is hard to find, so many people who would like a low-sugar recipe simply use no-sugar pectin.  This type of pectin requires 40% less sugar to thicken.
No-Sugar Pectin

No–sugar pectin, will always be labeled "No-Sugar" and is friendly for use when making jams and jellies for diabetics, as the addition of more sugar to the recipe is not necessary for jelling.  No-sugar pectin can be used with regular pectin recipes and also allows you to use alternative sweeteners such as honey, agave, Stevia and Splenda.  This is a great replacement for regular pectin when making jams and jellies for people with special dietary needs, like diabetics.
Modified Citrus Pectin (MCP)

Modified citrus pectin (MCP) is merely an altered type of normal, natural pectin, which, when eaten as a dietary supplement is thought to have some anti-cancer properties.  It works similarly to regular pectin, but can be hard to find in the local grocery.  I recommend Amazon for your MCP needs.
Freezer Pectin

Jams and jellies made with freezer jam pectin must be stored in the fridge or freezer.  It does not always jell well, but requires no cooking.
Liquid Pectin

Liquid pectin is a type of pectin that has already been dissolved, making it easier to mix into your jams and jellies.  Liquid pectin can be messier to work with and cannot be stored after opening.
Low-Methoxyl Pectin

Low-methoxly pectin is currently favorite type of pectin.  In the US, this type of pectin can be found under the brand name of "Pamona's Universal Pectin".  This type of pectin is different than the others in that it uses a calcium catalyst to jell the fruit.  Each box contains a packet of all natural pectin, and another containing calcium which is dissolved in water.  This type of pectin works well to jell difficult jellies such as pepper and mint jellies, and because it uses calcium for jelling, works just like a no-sugar pectin allowing the use of  low-calorie and no-calorie sweeteners like Stevia, as well as alternative sweeteners like honey.
Homemade Pectin
The brave at heart can make their very own pectin.
Tart / Green Apple Pectin
Ingredients:
3 pounds sliced, washed tart, green apples (like Granny Smith) with peels and cores. Crabapples are the best. Small, green, immature apples of most varieties work, too.
4 cups water
2 tablespoons of lemon juice
Directions:
Wash, but don't peel, about seven large tart green apples. Put them in a pot.
Cut them into pieces
Add four cups of water and two tablespoons of lemon juice.
Boil the mixture until it reduces almost in half (about 30 to 45 minutes), then
Strain it through cheesecloth or a jelly bag.
Boil the juice for another 20 minutes,
Pour it into sanitized jars, and seal them to store in the refrigerator, freezer or process in a water bath.