WIP Wednesday
I may have used affiliate links for some of the items in this post. Using an affiliate link to purchase an item won't cost you any more money, but I may receive payment if you click on a link and make a purchase. For more information, visit the disclosures page.
With #NaBloPoMo this month, I've been a bit of a slacker getting my WIP Wednesday posts up, but I'm happy to report that no only did I remember to write up this WIP post, but I have stuff to share!
My everyday sewing machine has been in the shop for the last week. Apparently they're having as much of a problem with the tension as I was. But that hasn't kept me from working on some of my projects.
I spent an evening sewing ring pieces together for my Double Wedding ring quilt. It's slow going, but I do feel like a little progress has been made as I'm completely out of single A pieces. They're all sewing into groups of at least 2, so another good night of sewing and I might just get the ring pieces completed. Of course, there is a lot more sewing after that, and lots of pinning. This is why curves are evil.
I also had a snow day on Monday, so I put together an entire baby quilt for this week's Project Quilting Challenge – Hearts. Here's a preview of the finished piece. I'll be sharing the whole thing on the blog Friday, so be sure to come back then to see it.
I also got to go to a Trunk Show for Wilmington Prints, which gave me lots of inspiration I hope to use in upcoming projects. You can read about it here.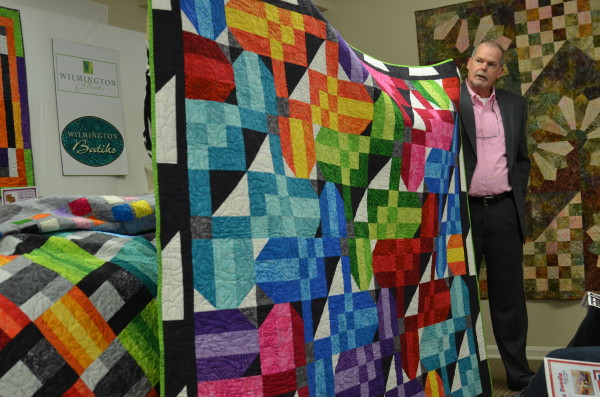 What have you been working on lately?
Sharing over at:
WIP Wednesday at Freshly Pieced, Let's Bee Social at Sew Fresh Quilts