Stir – A Review
I may have used affiliate links for some of the items in this post. Using an affiliate link to purchase an item won't cost you any more money, but I may receive payment if you click on a link and make a purchase. For more information, visit the disclosures page.
Stir: My Broken Brain and the Meals That Brought Me Home by Jessica Fechtor is the 1st book I was accepted to review for NetGalley.com and I couldn't think of a better book to start with. Stir will be released on June 23rd, 2015.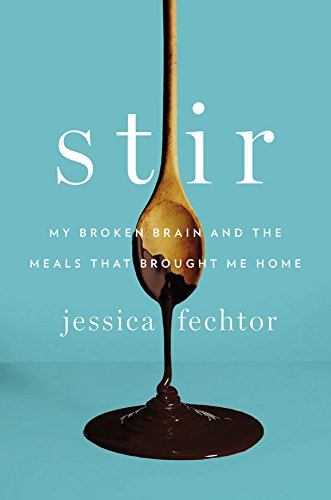 So what's this book about anyway? A Synopsis –

At 28, Jessica Fechtor was happily immersed in graduate school and her young marriage, and thinking about starting a family. Then one day, she went for a run and an aneurysm burst in her brain. She nearly died. She lost her sense of smell, the sight in her left eye, and was forced to the sidelines of the life she loved.
Jessica's journey to recovery began in the kitchen as soon as she was able to stand at the stovetop and stir. There, she drew strength from the restorative power of cooking and baking. Written with intelligence, humor, and warmth, Stir is a heartfelt examination of what it means to nourish and be nourished."  (PENGUIN GROUP Avery synopsis)
Woven throughout the narrative are 27 recipes for dishes that comfort and delight. Stir is sure to inspire, and send you straight to the kitchen.
But I've never heard of this author….
Jessica is the brain behind Sweet Amandine, a food blog that's been around since 2009.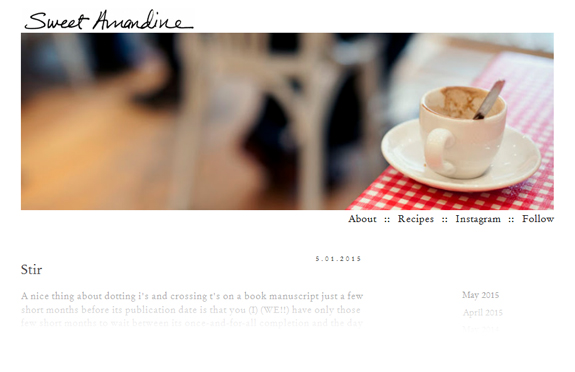 According to netgalley.com, you'll like Stir if you enjoy reading M. F. K. Fisher, Molly Wizenberg, and Tamar Adler, as well as Oliver Sacks, Jill Bolte Taylor, and Susannah Cahalan.
So how was it?
A well written memoir feels like a conversation between the author and yourself. You come away having learned the story of someone else's life, but also with a better understanding of your own. That's how I felt about Stir.
Jessica's book (and life) opens in front of you as she lies on the floor of a gym, an aneurysm bleeding into her brain. If that doesn't get your attention, I'm not sure what will.  From there you Jessica through trauma and healing, as her friends and food help her to move on.
"What would you do if you could do anything?: wasn't it at all. Instead, I should have been asking myself something else all along: "What would you do if you could do nothing?" That, for me, for a lot of us, I imagine, was the real question.
The book, like her blog, is well written, and personal.  The only thing I didn't love about the book was that trying to get a whole recipe to fit on a single page of the Kindle App on my iPhone is near impossible.   That won't be a problem for long. I like the book enough that I plan to purchase a print copy when the book comes out – easier for following recipes and for working in my messy kitchen.
I've only made one of the recipes in the book so far – Dot's Buttermilk Biscuits.  They were so good that my husband actually told me he liked them. That's a big deal around here where my husband hardly has anything to say about the food I make. So, I'll definitely be trying a few more recipes.
Where can I get my copy?
Stir isn't set to be released until June 23rd, but you can pre-order the book on Amazon.