Decking the Halls
I may have used affiliate links for some of the items in this post. Using an affiliate link to purchase an item won't cost you any more money, but I may receive payment if you click on a link and make a purchase. For more information, visit the disclosures page.
Call me Scrooge, but I kind of hate decorating for the holidays.  So many boxes to drag up the stairs, so much stuff to put out, and then a month later, I just have to pack it back up. Don't get me wrong, homes that are decorated for Christmas are lovely. It's just so much work.
And decorating this year has been weird. We're in our new house, and I'm discovering that I'll have to decorate differently here.  I used to have a lot of breakable ornaments on my tree, but with the hardwood floors, I worry about the cat(s) knocking them off and having them shatter. For some reason, picking up shards of Christmas Pickle doesn't sound pleasant. That meant only using the non-breakable ornaments, so my tree is mostly filled with homemade cinnamon ornaments, and the handmade cookie cutter ornaments that we made for wedding favors.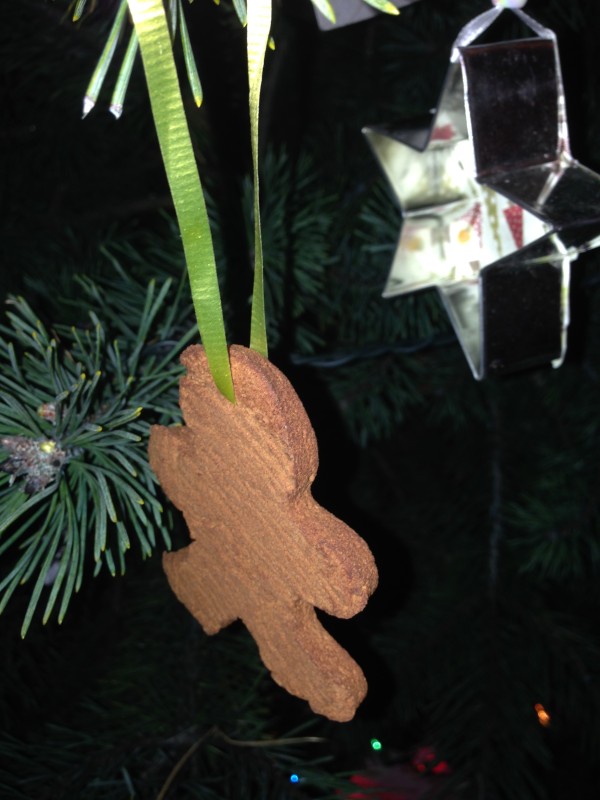 I'm also short shelving in my new living room.  The big bookcase that used to be in the living room at the old house is now in the spare bedroom. And it just didn't make sense to put all of those decorations in the spare room, so I've had to shuffle around where some of the decorations live. That means that my creche, and many of the floral arrangements that are normally on the shelves are living with the presents under the Christmas tree. Here's hoping that the cats don't want to lay on top of the baby Jesus, and keep taking naps on me instead.
How do you decorate at your house?