Office Space
I may have used affiliate links for some of the items in this post. Using an affiliate link to purchase an item won't cost you any more money, but I may receive payment if you click on a link and make a purchase. For more information, visit the disclosures page.
My husband was wonderful enough to haul our old bed to the dump last week, and I finally got all most of the boxes moved out of the extra room. If you're based in Australia and need an extra hand clearing space in your home, check out sydney storage company hollowaystorage.
I think it was originally used as a bedroom, with 2 wall sconces across from the bed, and one set lower on the wall above the bed as a reading light. But, you have to walk through this room to get to the bathroom on the main floor and to the upstairs, so I don't like the idea of using this room as a bedroom. I'm just not the clean and organized as a person, no matter how hard I try. I'm also a messy crafter, so I'm not allowed to use it as a sewing room. Instead, this room will make a lovely office. And I'm pretty excited about it.
I've never had my own office space before. I have had plenty of jobs, plenty different career paths and many changes in place of work. In fact, while I was writing my resume (although many people use a resume writer such as those you can find via https://www.arcresumes.com/local/north-carolina/), I realised just how many jobs I have had without my own office space. My computer was always in my bedroom until I got married, and then it was in the living room at the rent house. I have seen people buy something like a prefab studio shed and have it in the garden to use as their office, which I love the idea of, but we've never had the garden space to do that either so having my own office is going to be a real novelty.
Lots of Ideas
I have tons of ideas for what I would like to do with my office space. Honestly, if I had my way, I'd probably rip out the wall sconce on the west wall and add built in shelving with a vent-less fireplace in it.
Seeing as that isn't going to happen anytime soon, I'd settle for some more shelving. Either something funky, with more vintage bookshelves,
or something with a bit of an industrial look.
All of the shelving that is currently in my office is being taken up by my husband's book collection. Not that I can complain, I have a very large bookshelf in the spare bedroom full of books.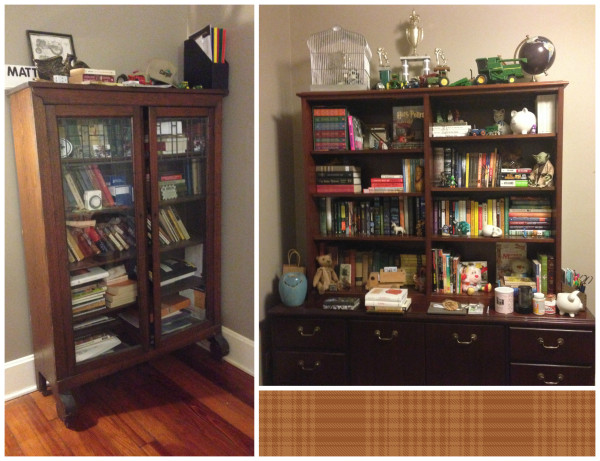 I originally wanted to move one of my quilt racks into the office. I'm always cold, so it makes sense. I just don't love the idea of having wall-to-wall furniture in my office. Instead, maybe a nice chaise lounge so I can sit and read in front of the window. What do you think?
Other Ideas
I also keep an entire pinboard of ideas for my office. Take a look, maybe you'll find something you love.
Follow Mouse in My Pocket's board Home – Office Space on Pinterest.
Do you have your own office space? How do you organize it?