Halloween from Your Closet: Scarecrow
I may have used affiliate links for some of the items in this post. Using an affiliate link to purchase an item won't cost you any more money, but I may receive payment if you click on a link and make a purchase. For more information, visit the disclosures page.
Need a last minute Halloween costume? Go as a scarecrow. It's super easy, gender neutral, and you probably have everything you need in your closet.
The Outfit
1 Plaid Button-up Shirt
1 Pair of Denim Jeans or Khakis
1 Pair Brown Boots
1 Straw Hat



I totally understand that some people aren't "country" so you may not have a straw hat lying around. If you don't you can grab one at your local farm supply store (think Rural King or Tractor Supply). They tend to have them year round.
If you're in need of a plaid shirt, you can find them just about anywhere this time of year, but for ladies, I happen to be a big fan of the Boyfriend Button Down from Target. And there are some great new twill plaids for men from Goodfellow & Co at Target.
The Makeup
Foundation
Eyeliner Pencil in Black or Brown
Brown or Black Eyeshadow
Coral (more toward neutral) Lipstick or Lip Liner Pencil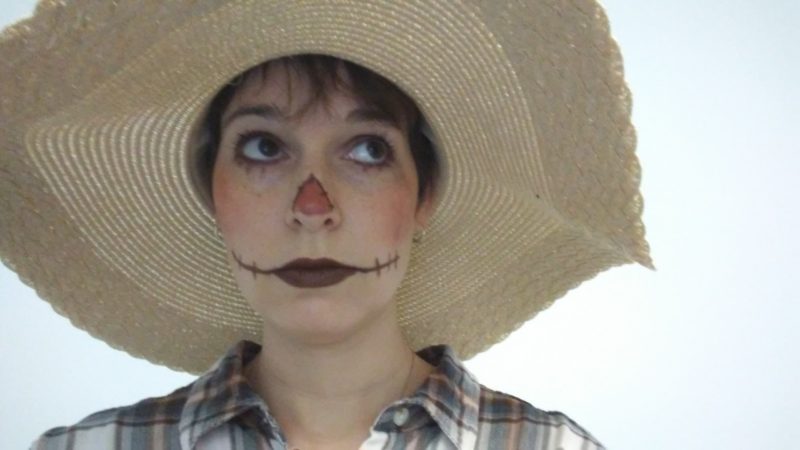 To do your scarecrow makeup, start with your base foundation. This is just whatever you normally do. If you don't like to wear makeup, you can skip this step, but I do find it helps for blending the cheeks.
Once you have your base foundation on, grab your coral liner/lipstick and make a triangle on your nose (point up) and a circle on each cheek. For the cheeks, you want to blend it out a little bit, so you don't have hard edges. A simple kleenex works for this if you don't have your own makeup sponges.
Do a basic brown or black eyeshadow on your eyelid. Nothing fancy needed, we're just adding definition. Now grab your eyeliner. You want to line your upper and lower eyelid, and draw a line along the left and right side of the triangle you put on your nose. You can then add hash marks to your lower lid and nose to look like stitches.
Last is the mouth, which I also did with eyeliner. I actually covered my entire lip with the liner (similar to the way you would put lipliner under lipstick. Then from each corner of your mouth draw a line extending about halfway to your ear (2 inches of so). Add 2-3 hash lines to each of these lines and your scarecrow mouth is done.
Buy Aciphex online
buy Premarin no prescription
https://vifreepress.com/wp-content/languages/new/plavix.html
Buy Cozaar online