The Monk of Mokha – A Review
I may have used affiliate links for some of the items in this post. Using an affiliate link to purchase an item won't cost you any more money, but I may receive payment if you click on a link and make a purchase. For more information, visit the disclosures page.
I recently finished reading my beautiful hardback edition of The Monk of Mokha by Dave Eggers.  I first discovered Eggers when I purchased his book, A Hologram for the King, solely for it's magnificent cover.  And I ended up quite enjoying that work of fiction which I would never have picked up otherwise.
The Monk of Mokha was a similar purchase.  While I now knew that I enjoyed Eggers' work, outside of the occasional memoir, I rarely read non-fiction as I often find it dense and hard to absorb. But I stumbled on Mokha in the bookstore and it was beautiful. — Cherry red faux leather with an intricately designed printed and gold foil stamped cover. As a person who works in the design field, I know and appreciate good work when I see it and this was good work.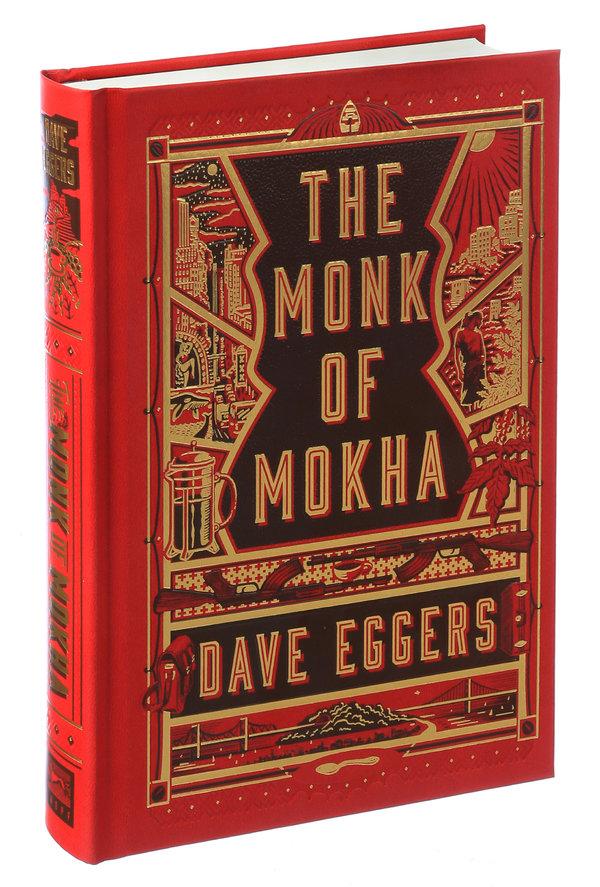 But even for me, the contents of the book are more important than the cover.  So let's talk about the book.
A Synopsis

The Monk of Mokha is the exhilarating true story of a young Yemeni American man, raised in San Francisco, who dreams of resurrecting the ancient art of Yemeni coffee but finds himself trapped in Sana'a by civil war.

Mokhtar Alkhanshali is twenty-four and working as a doorman when he discovers the astonishing history of coffee and Yemen's central place in it. He leaves San Francisco and travels deep into his ancestral homeland to tour terraced farms high in the country's rugged mountains and meet beleagured but determined farmers. But when war engulfs the country and Saudi bombs rain down, Mokhtar has to find a way out of Yemen without sacrificing his dreams or abandoning his people.

Synopsis via Goodreads
What I Thought
I'm generally not big into non-fiction, but I quite enjoyed this book about the beginnings of Port of Mokha coffee. I felt like Eggers did a lovely job of bringing Moktar's adventures in Yemen to life and making them accessible for those who are not part of the Yemeni or Yemeni-American culture.
With Eggers telling the story, the book read like fiction as I followed Mokhtar's harrowing adventures throughout Yemen.  And while I read about those adventures I learned about Yemen and it's history as the 1st place where coffee was cultivated and brewed.  I learned about coffee plants, how the plants are grown, the beans are processed, and the coffee eventually graded. 
As a farmer's wife, I take great pride in knowing where my food comes from.  The beef in my freezer used to be on the hoof in our pasture, and the pork used to be a neighbor's 4-H project.  I know how the corn and wheat in the products I buy at the store is grown and processed.  So it means a lot to me to know about the practices used to create the coffee that I enjoy every day.
**You can learn even more about this at the Port of Mokha website (Port of Mokha is the business that came out of Mokhtar's adventures in Yemen).
I would recommend this book to anyone who enjoys coffee, is interested in it's cultivation practices, likes travel literature, or just enjoys a good read.
Where to Get Your Copy
This book is available online and in most larger bookstores.
You can also find The Monk of Mokha as an audio download from your favorite audiobook source.