On Relationships
I may have used affiliate links for some of the items in this post. Using an affiliate link to purchase an item won't cost you any more money, but I may receive payment if you click on a link and make a purchase. For more information, visit the disclosures page.
It's a new month and time for another TBB Asks. This month's theme is relationships. So let's get right to it and talk about them.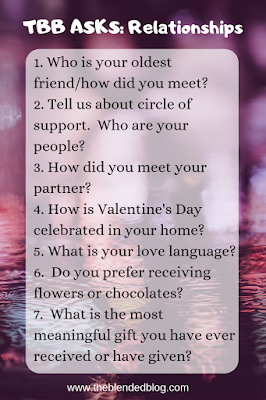 Oldest Friend

My oldest friend — well, let's call her the friend I've had the longest, because she is my age and certainly not the oldest, is my friend Kayci. I've known her since we were in class together in elementary school. She got me interested in the school choir, and theatre, so I'd say that I have a lot to thank her for. And even though she's moved several hours away now, I love to keep up with her via social media.
Circle of Support

My circle of support isn't something I've put much thought into, tho honestly, it's probably just my family. I'm pretty lucky. I got a great family and I married into another one. They're always there if I need something, particularly with my favorite tiny human. My mom and mom-in-law even took Mil for about 3 days last December when the hubs and I both had the flu.
My Guy
It may seem a bit odd to some people, but I have no memories of actually meeting my husband. Our parents were pregnant with us at the same time. As a matter of fact, I'm just 6 days older than my husband, and when we were born, his family lived just up the road from my grandparents. So, even before I knew who he was, he was always a presence in my life.
Valentine's Day Celebrations
I can't remember the last time we did something for Valentine's Day. It was probably when we were dating. Because, honestly, Valentine's weekend is always the same weekend as the Farm Show in Louisville, so the hubs is out of town. I guess we could always do something at another time, but I'm not big on cut flowers, and I can get my own chocolates. At our house, we just have more important things to do.
Love Language
I'm a gift giver. If I see something that reminds me of someone, or that I think they will love, I often just get it for them, holiday or not.
Flowers or Chocolates?
As I mentioned before, I'm not really partial to receiving flowers or chocolates. If you want to impress me, get me a book.
Most Meaningful Gift
I would have the hardest time picking out the most meaningful gift I ever received, but if I had to pick something to mention for this post, it would be the family heirloom locket that I wore as my something borrowed at my wedding. After the wedding was over, my grandmother told me to keep it. I still have it, and actually wear it on occasion. It still has the photos of my great great aunt Bertha and her father in it.
As far as the best gift I've given, it's probably the photo book I made for my mother, which has pictures of her mom in it, along with all of my grandmother's poetry.
What about you?
How would you answer these questions?
Sharing over at:
The Blended Blog