Works in Progress
I may have used affiliate links for some of the items in this post. Using an affiliate link to purchase an item won't cost you any more money, but I may receive payment if you click on a link and make a purchase. For more information, visit the disclosures page.
I have to admit to being a complete slacker and getting almost no sewing accomplished since my last WiP post. I did finish up my mini quilt for the 1st Project Quilting challenge of the season.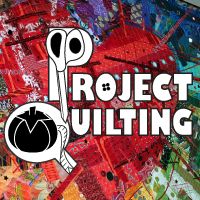 You can vote for your favorites until 8:00pm CST on Friday, January 16th, 2015.
The only other thing that happened in my sewing area was getting my based Impromptu quilt up off the floor so my sister could get thru my basement to bring me a pair of her husband's jeans to patch.
I have gotten quite a few non-sewing things done- like some de-cluttering, which I'll be blogging about soon.  I hope you've had a more productive week in sewing than I have! What are you working on?
Sharing over at:
WIP Wednesday at Freshly Pieced, Let's Bee Social at Sew Fresh Quilts