2-Hour Rolls
I may have used affiliate links for some of the items in this post. Using an affiliate link to purchase an item won't cost you any more money, but I may receive payment if you click on a link and make a purchase. For more information, visit the disclosures page.
This is the recipe for my grama Ruby's 2-Hour Rolls.  I love this recipe because it's a basic bread you can use to make butterhorns, cinnamon rolls, or any other type of bread you like.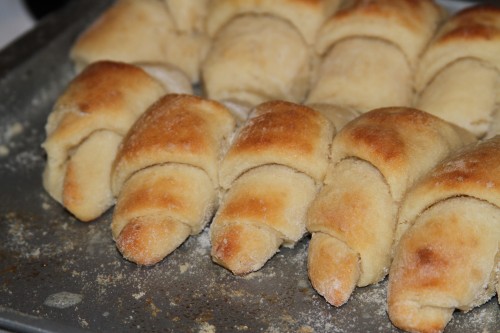 Ingredients:
3 package dry yeast
1/2 cup sugar
2 eggs
2 cups warm water
3 tablespoons liquid shortening
1 teaspoon salt
6 1/2 cups flour
Instructions:
Beat yeast, sugar, eggs and water until frothy. Knead in remaining ingredients until well mixed. Do not handle more than necessary. Let rise until mixture doubles in bulk. Separate into thirds and make butterhorns or cinnamon rolls.
For butterhorns roll dough into a circle and brush with butter cutting into eights like a pie and roll from outside in. For cinnamon rolls roll into rectangle and brush with butter and sprinkle with cinnamon sugar. Then roll dough into log and cut into eights.
Place dough onto greased cookie sheet or muffin tins and let rise again. Bake at 375 for 15 minutes.
*These rolls can also be made into an Italian roll, by sprinkling garlic salt and Italian seasoning on the butter before rolling.