Fresh Blueberry Muffins
I may have used affiliate links for some of the items in this post. Using an affiliate link to purchase an item won't cost you any more money, but I may receive payment if you click on a link and make a purchase. For more information, visit the disclosures page.
I love to make these muffins in the summer with fresh-picked blueberries.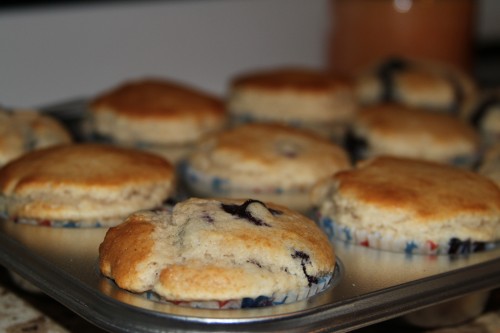 Ingredients:
3/4 cup milk
1/4 cup lemon juice
2 cups all-purpose flour
3/4 cup sugar
1 tablespoon baking powder
1/2 teaspoon ground cinnamon
1/2 teaspoon salt
1 egg, lightly beaten
1/4 cup vegetable oil
1 cup fresh or frozen blueberries
Instructions:
In a small bowl, mix milk and lemon juice; set aside.
In a large bowl, combine flour, sugar, baking powder, cinnamon and salt. Set aside. Add egg and oil to milk mixture; mix well. Gently stir into flour mixture just until moistened. Fold in blueberries.
Fill greased or paper-lined muffin cups two-thirds full. Bake at 400 degrees F at 22-24 minutes or until center of muffin springs back when lightly touched.