Molten Butterscotch Cakes
I may have used affiliate links for some of the items in this post. Using an affiliate link to purchase an item won't cost you any more money, but I may receive payment if you click on a link and make a purchase. For more information, visit the disclosures page.
This recipe for Molten Butterscotch Cakes comes from the September 2007 edition of the Betty Crocker Fall Baking publication.  It's a good recipe, and a nice variation on all of the molten chocolate cake recipes out there.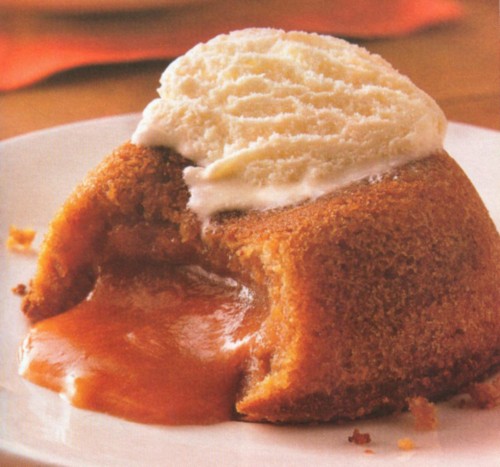 Ingredients:
6 teaspoons graham cracker crumbs
1 cup (6 oz) butterscotch chips
2/3 cup butter
3 eggs
3 egg yolks
3/4 cup packed brown sugar (I like dark brown)
1/2 cup all-purpose flour
Instructions:
Preheat over to 450F.
Prepare 6 (6 oz) custard cups with baking spray and flour.
Sprinkle 1 teaspoon of crumbs on bottom and around sides of each custard cup.
In 1-quart saucepan, melt chips and butter over medium heat, stirring constantly.
Remove from heat and cool slightly, about 5 minutes.
In large bowl, beat eggs and egg yolks with whisk until well blended.
Beat in brown sugar.
Add butterscotch mixture and flour.
Beat until well blended.
Divide batter evenly among custard cups.
Place cups on jelly roll pan (cookie sheet with sides)
Bake 12-14 minutes or until sides are set and centers are still soft (tops will be puffed and cracked).
Let stand 3 minutes .
Run small knife around sides to loosen.
Immediately place individual dessert plates on top of custard cups.
Flip over and remove cup.
Serve warm with ice cream.