Honey Bun Coffee Cake
I may have used affiliate links for some of the items in this post. Using an affiliate link to purchase an item won't cost you any more money, but I may receive payment if you click on a link and make a purchase. For more information, visit the disclosures page.
This recipe for honey bun coffee cake is a favorite sweet breakfast food at our Home Ec meetings.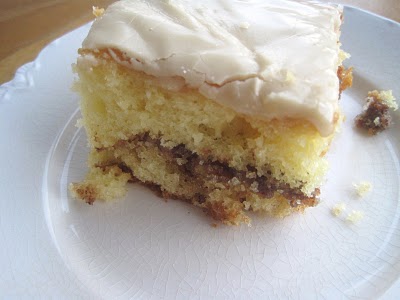 Ingredients:
1 box yellow cake mix
4 eggs
1 cup sour cream
3/4 cup vegetable oil
3 teaspoons cinnamon
1 cup brown sugar
3 cups powdered sugar
1/2 cup milk
Instructions:
Grease and flour a 9×13 pan or casserole dish.
Mix cake mix, eggs, sour cream and oil.
Pour a small amount of batter in the bottom of pan – just enough to cover the bottom.
In a separate bowl, mix brown sugar and cinnamon.
Sprinkle brown sugar mixture over batter.
Pour remaining batter over brown sugar mixture.
Bake at 325 degrees for 45 minutes.
Make icing with powdered sugar and milk.
While cake is warm, pour powdered sugar icing over cake.
Poke small holes with a toothpick, to allow icing to seep into the cake.
Serve warm or cool.