Super Secret Revealed
I may have used affiliate links for some of the items in this post. Using an affiliate link to purchase an item won't cost you any more money, but I may receive payment if you click on a link and make a purchase. For more information, visit the disclosures page.
The super secret project is finally finished!  For those of you who didn't know what it was, I made my sister Kayla a quilt as a wedding present and gave it to her as her Bridal Shower yesterday.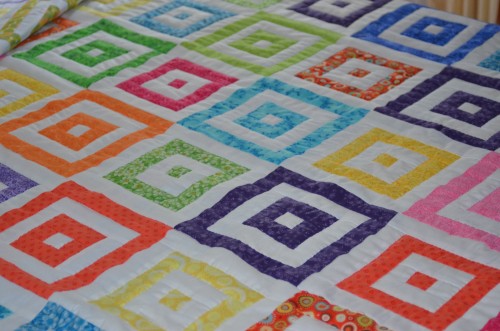 While I was making this quilt, I noticed a few things that are the same about quilting and marriage that I wanted to make sure to pass on to my little sister.  Just like making a quilt, a good marriage takes hard work, time, and patience.  My hope is that when she uses this quilt, she'll remember that.
The front of the quilt has 2340 pieces of fabric in 180 7-inch blocks laid out in a 12×15 grid.  It took me about 6 months of intermittent work to complete.  Based on the average time for each block, plus cutting  the fabric and piecing the finished blocks together, I'm estimating the project took about 60 hours. I think if I'd worked on it every day, I could have gotten it done in about a month.  I'm also pretty sure it would have been much faster if I had used honeybuns – which are rolls of 1.5-inch strips.  That's what the quilt pattern called for, but unfortunately, there were none to be found around here, so I spent a lot of the time rotary cutting all those strips.
The back of the quilt was much easier.  I used large blocks of fabric and a jelly roll for the back of the quilt.  That made it go together a lot quicker. It only took about a week to complete.
I'm glad I started the project as early as I did.  After I worked on it for 6 months, it still had to be quilted.  That's where my wonderful mother-in-law comes in.  She does a lot of quilting, and she offered to do the hand quilting and binding for me.  With all her other projects, she was still able to get it done for me in time for my sister's Bridal Shower over the weekend.
A Finished Product
Of course, Mary Kay wasn't the only help I had.  My aunt Susan was also a huge help, she embroidered that white block on the back for me with Kayla & Shane's names and wedding date.
I'm super excited about the final product.  What do you think?